The voice in flamenco singing
There is no single voice in flamenco singing, nor is it necessary to have a specific type of voice to sing. Singing is part of the essence of flamenco, so much so that this art could not be understood without the intervention of the voice. In fact, in its origin, flamenco was only singing and, until the incorporation of the guitar, the voice alone or with the accompaniment of the palms or knuckles was enough.
To sing flamenco you don't have to have a certain type of voice. Nor is a specifically serious or sharp voice necessary, nor a light or dark bell. Throughout the history of this art, we find different models of voices, depending on the trends of the moment.
The voice is something unique to each person, hence to sing flamenco all the voices are suitable, logically as long as the interpreter has the minimum tempo and tuning skills necessary for this artistic genre.
Flamenco songs usually have a lot of improvisation, with a base of formal elements, depending on the style that is interpreted. On a particular melody and rhythms, each artist harmonizes his voice timbre, his lung capacity and leaves his imprint and personal seal.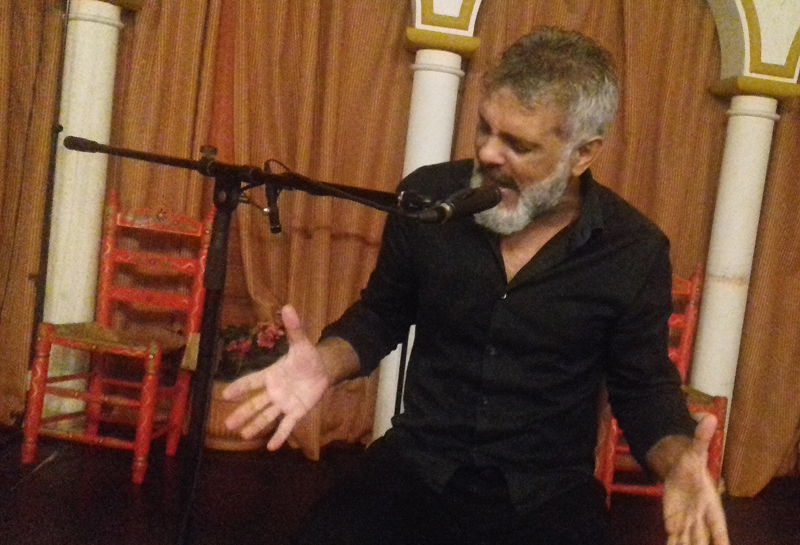 Flamenco singing is born from the popular voice, hence the lyrics include all kinds of feelings associated with themes such as passion, love, life, death, joy … It is an art of emotions, which are reflected both in the how to interpret it.
In a flamenco performance, sing, dance and guitar harmonize, but there are shows in which the interpretation of a singer is enough. In this case, the artist uses his voice to transmit, using his own vocal melodies, which differ from other musical genres.
In flamenco singing, the anachronistic beginning is very frequent in different flamenco styles. This means that the singer enters the important part of the rhythm through a smooth incorporation, that is, it goes from less to more. Another way to start flamenco singing is with an "ay!", which is gradually ascending in the tone of the artist.
Types of voice in flamenco singing
Flamenco singing has its own voice and a series of characteristics that differentiate it from other musical styles. Throughout history, this art has recorded different types of voice for singing, among which we find the following:
Voice "afillá": it takes as model the gypsy singer Antonio Ortega, known as Fillo. It is a voice with serious and opaque nuances. It is characterized by being hoarse, brushed and hard, being highly appreciated by the experts of the nineteenth century. It is appropriate for the interpretation of styles such as seguiriya, bulería, toná or soleá. Examples of this voice are Manolo Caracol and María Borrico.
"Redonda" (round) voice: it is what is usually called "flamenco" because it allows greater interpretive virtuosity. It is sweet, pasty and virile. Tomás Pavón is a prototype of this voice, as well as great singers such as La Serrana or the "Niña de los Peines".
"Natural" (nature) voice: it is the chest or gypsy voice, which shares some trait with the 'afillá', as regards the tear of the singer at certain moments of the performance. It also has similarities with the round voice, but it differs from this by the tear we have mentioned. Within this category of voice, we find Manuel Torre or Antonio Mairena.
'Fácil' (easy) voice: it is a rhythmic, fresh and flexible voice, very suitable for the interpretation of festive songs, such as bulerías, alegrías, jaleos or tangos. Examples of this type of voice are those of the cantaora La Paquera and La Perla de Cádiz.
'Falsete' voice (of falsetto): The falsetto voice allows singers to address records that are impossible to achieve with the natural voice. It is a voice that gives a lot of play in the back and forth songs and in some flamenco adaptations. Master Chacón introduced this type of voice and El Niño de Marchena is an example of this category. It is a typical voice for Levante's songs.
With regard to the voice in flamenco singing, as with other topics related to this art, there is no closed classification, although this list may be useful to give us an idea of the richness of vocal interpretation in this artistic genre .
As we always recommend, enjoying a live flamenco show is the best option to put this theoretical knowledge into practice. In the show we celebrate every day at El Palacio Andaluz, you can see how our singers use their voice, printing their personal stamp on each performance.
If you visit Seville, come see our flamenco show and enjoy the voice of our artists. We will wait for you!