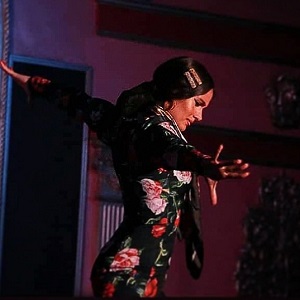 'Pasión Flamenca'
---
This flamenco show is a tribute to the "mother of flamenco": the soleá. The solemnity of its lyrics, as well as the deep complaint, will transport you to the purest and deepest flamenco.'Pasión Flamenca' is a return to the origins of this art with the soleá.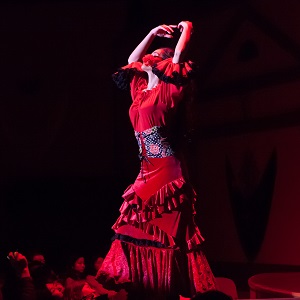 'Esencia Flamenca'
---
'Esencia Flamenca' is the solemnity and sobriety of the soleá with the festive pin of the bulería. A mixture of rhythms that will awaken your emotions with one of the flamenco styles with the most contrasts: the bulería por soleá or bulería al golpe. Let yourself be carried away by singing,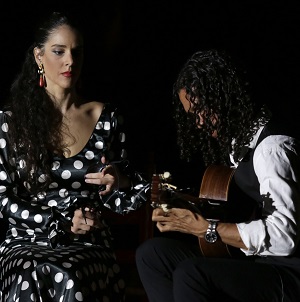 'Raíces Flamencas'
---
The strum of the guitar, the strength of the castanets and the sobriety of the seguiriya. A composition that will make you live the purity of flamenco, combining the unmistakable sounds of this art with one of the oldest flamenco styles: the seguiriya.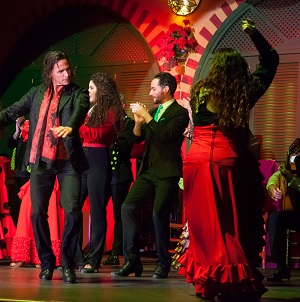 'Embrujo Flamenco'
---
'Embrujo flamenco' is taranto and sevillanas. Enjoy a deep style like taranto and the joy of ruffles and the beat of the guitar with sevillanas. Quite a contrast of feelings.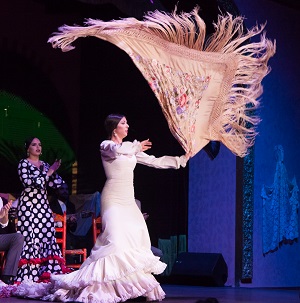 'Tacón y Garra'
---
Enjoy the purest flamenco, an evocation to the deep. `Tacón y Garra´ tells you the history of primitive flamenco. It is the union of two flamenco styles with strength and power: farruca and tangos.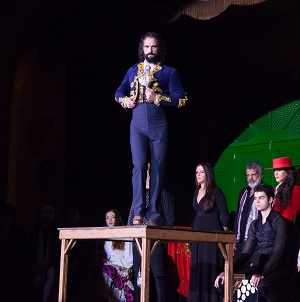 'Duende Flamenco'
---
Get carried away by the beat and immerse yourself in alegrías, one of the oldest, most complete and most traditional flamenco dances. A cheerful, light and sensual style. A whole proposal of party and joy.
El Palacio Andaluz offers its customers a transfer service with special price closed and collected anywhere in the city of Seville. You can make your reservation on this link.
Testimonies
"Passionate music, dancing and songs. Its very entertsining to watch. We took show + dinner. Main course is spot on but appetizer and dessert was just ok. The main feast is the flamenco show"

"The flamenco dance is excellent and very professional"

"We enjoyed the show! Wonderful entertaining Spectacular and fast. Keep it up! Great evening thank you!"

"Absolutely brilliant must be seen"

"Best show I watched! Food was great but the main part was definitely the dance and the story. I was shocked how amazing everyone was, from the dancers to the live singers and to the live guitarists. A must to go whenever you visit Sevilla"

"Simply amazing!!! The dancers and singers are professionals so the atmosphere was out of this world"

"Very good flamenco show, definitely a must go when you are visiting Seville"

"Dantastic, feel the energy coming out of those performers... must go to have a look if you are in Seville"

"Amazing show full of action and excitement. The passion of the dancing was unbelievable and the live music and singers was next level. 100% recommend you go to this show if you are looking for a Flamenco experience!"

"Will remember this place for a while. Beautiful Flamingo dancer"

"Amazing, brilliant, a must to see, the talent of all the dancer is unbelievable"

"Outstanding talent with great dinner! Must do for every tourist"

"The show is wonderful and I definitely recommend doing dinner here 🙂 "

"Wow... awesome experience. Stunning performance & beautiful costumes"

"I've seen flamenco shows in Granada, Barcelona and the famous Corral de la Moreria in Madrid but the one here has been the best for me. The service, tapas and wine were excellent. I recommend one hundred percent. Wonderful place to enjoy and fall in love with flamenco art"

"Absolutely stunning performance by a group of Flamenco dancers,colorful,exciting & extremely visual,highly recommended if you are visiting Spain"

"Vibrant show with young talented dancer's mixed with experienced musicians. If you enjoy Flamenco you should be pleased with the content which includes less of the dramatic angry style and more colourful flamboyance and joy"

"Very nice show. Performance by talented dancers with passion. The show was approx. 1.5h. Food and drinks are possible to purchase"

"The other shows only had a few people on stage at a time, this one has many performers and it was excellent! Would recommend this for sure as there are many flamenco shows to choose from in Seville"