The flamenco tablao in Seville, why should you visit one?
If you visit Seville, we recommend you enjoy Andalusian singing and dancing. Without a doubt, flamenco tablao in Seville is the best place to see a live show. A place impregnated with 'duende', in which art and tradition come together to the delight of our senses.
The experience of attending a flamenco tablao is unique because in these places a very special atmosphere is created and allows a direct connection of the spectator with the artists. Any detail is perceived in a different way. The strumming of the guitar, the whining of the cantaor, the zapateado of the dancer, the flapping of the fan …
If you have already attended one, surely moments like these come to mind and if you have never been to a flamenco tablao, what are you waiting for? It is the ideal place to approach this art because the spirit of flamenco is kept alive, not only because of the show that is performed, but also because the decoration is taken care of, set with details and ornaments that make reference to this universal art.
Why is it called tablao flamenco?
Although now the term tablao flamenco is the one used to refer to these places, which host live singing and dancing shows, they have not always known each other by this name. This denomination refers to the wooden stage on which it is danced. This material, wood, is used to protect the joints of the dancers and for the quality of the sound they produce when they tap.
The rise of the flamenco tablaos goes back to the 60s, when the well-known singing coffees began to proliferate, places where the general public came to see flamenco live. Also known as "Cathedrals of the Duende", the role of flamenco tablao has been decisive for the evolution and popularization of flamenco art.
Until now, flamenco shows were reserved for small groups that met in taverns. It was during the considered Golden Age of flamenco, between 1860 and 1919, when this art went from being reserved to minorities to acquire a more popular character.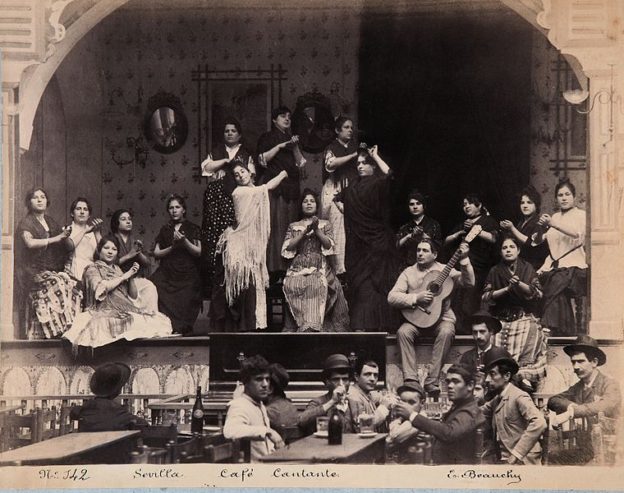 These 'cafes singers' were scattered throughout the Spanish geography, although they took root in Madrid and the Andalusian provinces of Cádiz and Seville. For artists such as La Niña de los Peines or Enrique el Mellizo, they were his best showcase to make himself known and also served as a meeting point for many others, some internationally famous in flamenco, such as Lebrijano, Farruco, Paquera de Jerez , Manolo Sanlúcar, Enrique Morente, Manuela Carrasco, José Mercé or the guitarist Paco Cepero, among others.
Originally, these places had a large room with a tablao in the middle, surrounded by tables and chairs for the public. During this time 3 flamenco schools of great importance were set up in Jerez de la Frontera, Cádiz and the Triana neighborhood, in Seville.
Flamenco begins to gain importance and becomes a bulwark of Andalusian and Spanish culture. It was from 1910, approximately, when these picturesque places begin to disappear to give way to flamenco tablaos.
As of 1955, the evolution of flamenco tablao is unstoppable, with Andalusia being the capital and cradle of flamenco, given the number of venues that emerged and the frequency with which these performances were celebrated. That's when flamenco art crosses borders and arouses the interest of personalities from around the world.
Crowds of Hollywood stars took advantage of their stay in Spain to attend these "Flamenco Temples" or "Flamenco Cathedrals", as they were popularly known, to see a live flamenco show. These sites became and continue to be the best place to have fun and enjoy this genuine art.
The best flamenco tablao in Seville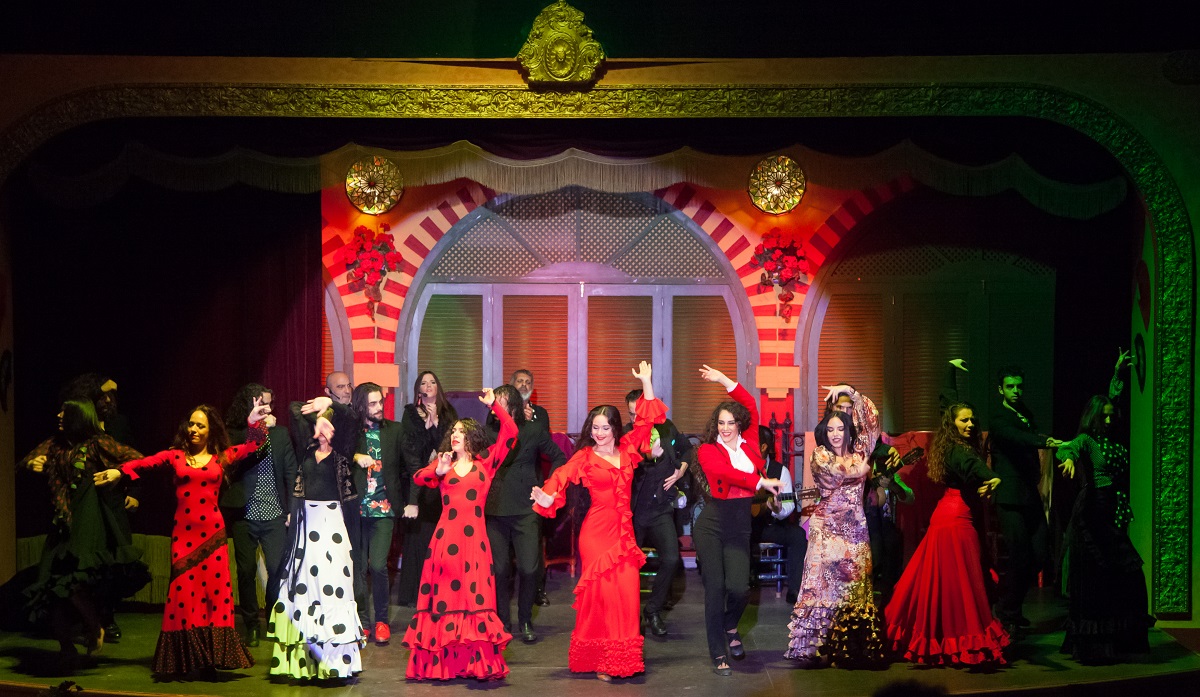 Although there are many places of this type in different corners of the world, there are places, such as the capital of Spain, where your visit is essential. Flamenco tablaos in Seville have been responsible for contributing to the recovery and maintenance of flamenco as a universal art, especially since it was declared Intangible Cultural Heritage of Humanity in 2010.
Places full of 'duende', ideal to get close to the origins of cante jondo and to know different flamenco styles in a unique atmosphere. If you are in Seville, you can not miss a live flamenco show at El Palacio Andaluz, a tablao that is a benchmark of this city for the artistic quality of the show held daily. More than twenty artists offer a tour of the purest and most traditional flamenco, in an atmosphere with a strong Andalusian label.
If you are going to visit our city soon, make your reservation online and feel flamenco in the first person. Do not hesitate, a flamenco tablao is the best option to enjoy this art in capital letters.