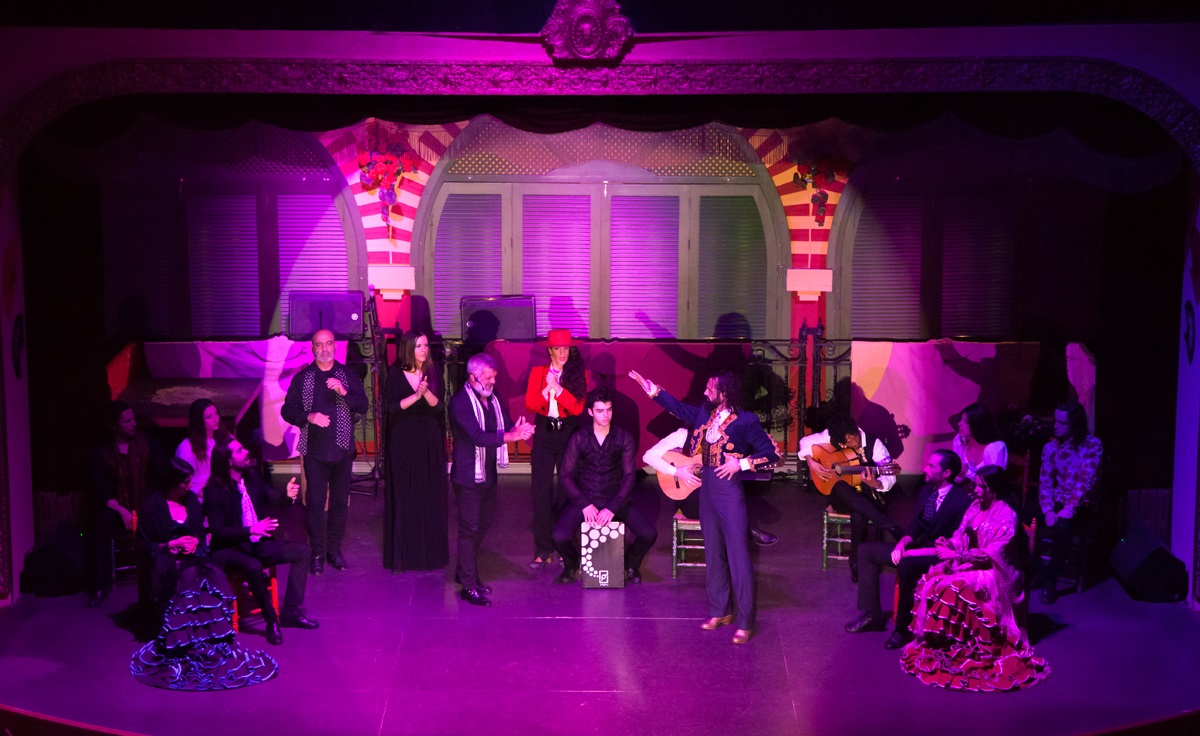 At the tablao El Palacio Andaluz you can enjoy the essence of flamenco in capital letters. It is the ideal place to see the best flamenco show in Seville. Every day there is a show at 7:00 p.m. 
During the show, which lasts for an hour and a half, you have the option of tasting an excellent a la carte dinner or tapas, with new Andalusian cuisine, or enjoy your favorite drink.
Flamenco show chosen by TVE (Spanish Television)
This show has been chosen by Televisión Española for the promotion and diffusion of flamenco internationally, for its visual quality, its artistic value and for being a model and example of the most deeply rooted Spanish popular culture.
The best flamenco show in Andalusia
At El Palacio Andaluz you can see the best flamenco show in Andalusia. The reason? It is the tablao that has the largest cast of flamenco artists for a daily show of these characteristics. A sensational staging of pure and traditional flamenco performed by bailaores, guitarists, cantaores and palmeros of recognized national and international prestige.
A performance that bears the rubric of Emilio Ramírez, 'El Duende', principal dancer, choreographer and artistic director of this show full of feeling and passion.
And, what can you see in this flamenco show? Especially art, a lot of art. The show begins with alegrías de Cádiz. Continues with the Spanish Classic 'Torre del Oro', 'Wedding of Luis Alonso' and 'Sevilla'. Then, tarantos, seguiriyas, soleás, alegrías and cañas take the flamenco tablao to give way to the flamenco adaptation of the Ópera 'Carmen'.
After this piece, some bulerías with canes precede the zapateao, the guajiras, the tango and the farruca, the prelude to the end of the party with the whole body of dance on the stage playing sevillanas and bulerías.
All flamenco music is live thanks to the interpretation of guitarists and singers that are also part of this exceptional staging. Do not let them tell you! You have to see it. Make your reservation online now!