Soleá de José, "a good flamenco dancer has to know the flamenco singing well"
Soledad de José Sarró is one of the flamenco dancers who are part of the cast of artists from El Palacio Andaluz. Artistically baptized as 'Soleá de José', a name that honors one of the flamenco styles with which she feels most identified, the soleá.
Born in Bormujos (Seville), his love affair with flamenco began at the age of four. His mother enrolled him in an academy to learn sevillanas and since then his life has been linked to this art. He has a degree in Spanish Dance from the Conservatory of Seville. At the moment, the Superior Degree at the Ángel Pericet Superior Dance Conservatory of Málaga is being prepared, a formation that combines with the studies of Superior Degree in Infantile Education.
Despite his youth, Soleá de José has participated in different shows and toured stages in Madrid, Barcelona and several Andalusian cities. With only 13 years he went to Germany, where he spent more than a year dancing in different tablaos and local German. It has been linked to El Palacio Andaluz since 2017, where it plays several flamenco palos, only with chopsticks and pieces of Spanish classic.
They say of her that she is an elegant flamenco dancer and with presence in the tablao. She also looks like this and, moreover, she vindicates the role of castanets in flamenco because it is an instrument that says "you can take a lot of advantage and enrich this art".
He admires Belén López, Águeda Saavedra, Pastora Galván and Matilde Coral, whom he considers a reference in flamenco dancing. A lover and defender of traditional flamenco, this flamenco dancer would love to dedicate herself to teaching once she leaves the tablaos.
Soleá de José must be seen on stage. With and without sticks. It is pure art. But we also invite you to meet her in this interview.
An elegant flamenco dancer with strength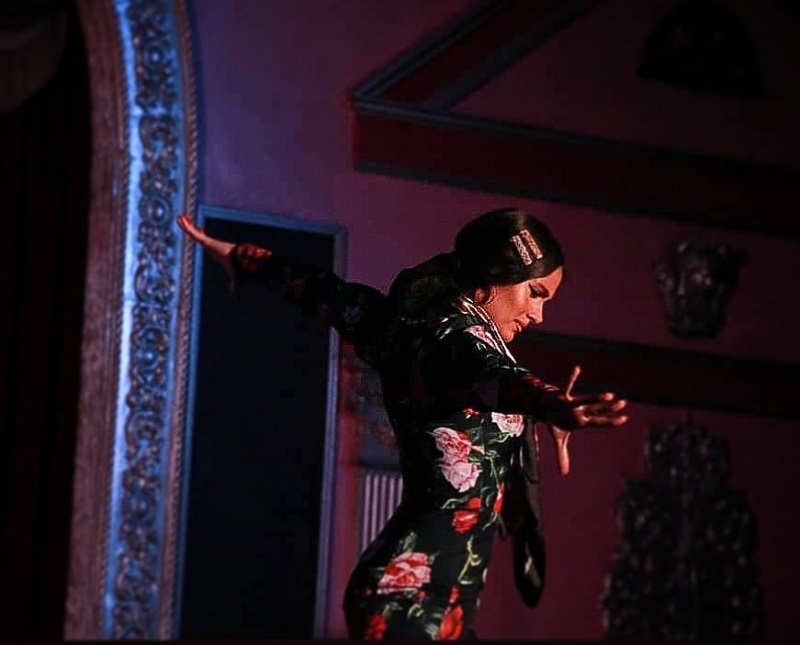 Question (Q): Soledad, tell us why and how you started in flamenco.
Answer (A): I started with four years. It was typical. My mother put me in an academy to learn sevillanas. I liked it and from there I started in the world of flamenco. After the academies, I studied Spanish Dance at the Conservatory of Seville and now I am preparing my advanced degree at the Conservatory of Malaga.
I have also done several flamenco courses with artists such as Belén López or Águeda Saavedra and I have studied for two years at the Andalusian Dance Center, where I have received classes from Rocío Coral, Rubén Olmos and Ana María Bueno, among others.
(Q): And this idyll with flamenco, does it come from a family or not?
(A): My grandmother was a gypsy and she liked flamenco a lot. My mother too, but they have never been professionally dedicated to it. My father is Valencian and they are not linked to this art either. Let's say that mine with flamenco is 'spontaneous', which does not come from family.
(Q):  What has been your career as a flamenco dancer?
(A):  With 13 years I went to Germany. There I spent a year dancing in different venues and tablaos. I have also participated in shows in Madrid, Barcelona and several cities in Andalusia. At El Palacio Andaluz I started dancing a couple of years ago and since December 2018 I am part of the cast of artists of this tablao. I am still very young, but I have already done some things.
(Q): During this time, what people have marked you?
(A): Pastora Galván, Belén López, Águeda Saavedra and Gema Moneo. They are artists who have marked me well because I have given flamenco courses with them or because I can not stop watching their videos. Especially Belén López, I love it.
(Q): How is Soleá de José as a flamenco dancer?
(A): I am considered a very elegant flamenco dancer on stage and very strong in dance. I also see myself like that, because I'm not a fast dance. It hits me more to dance a soleá because I have presence on stage and a lot of energy in the dance.
(Q): And you, with what flamenco style do you feel most at ease?
(A): This is very personal. I think it goes in stages. I can not define myself by a specific style because there are periods in which I feel more comfortable with a soleá and others in which I like to dance more for tarantos or tangos. As I dance daily, depending on the mood, I feel better with one stick or another.
(Q): But there will be some style that you like more than another, right?
(A): If I have to decant for some, both to dance it and to see it, the soleá por bulerías well done. Or some tangos from a person who does it in conditions, like Águeda Saavedra, I also like it a lot.
Stay with a concrete flamenco style? The soleá because it is a very serious, stately dance, difficult to dance and transmit feelings. You have to understand a lot to dance a soleá well and move from this to the bulería.
"The variety of this flamenco show is not found in other tablaos"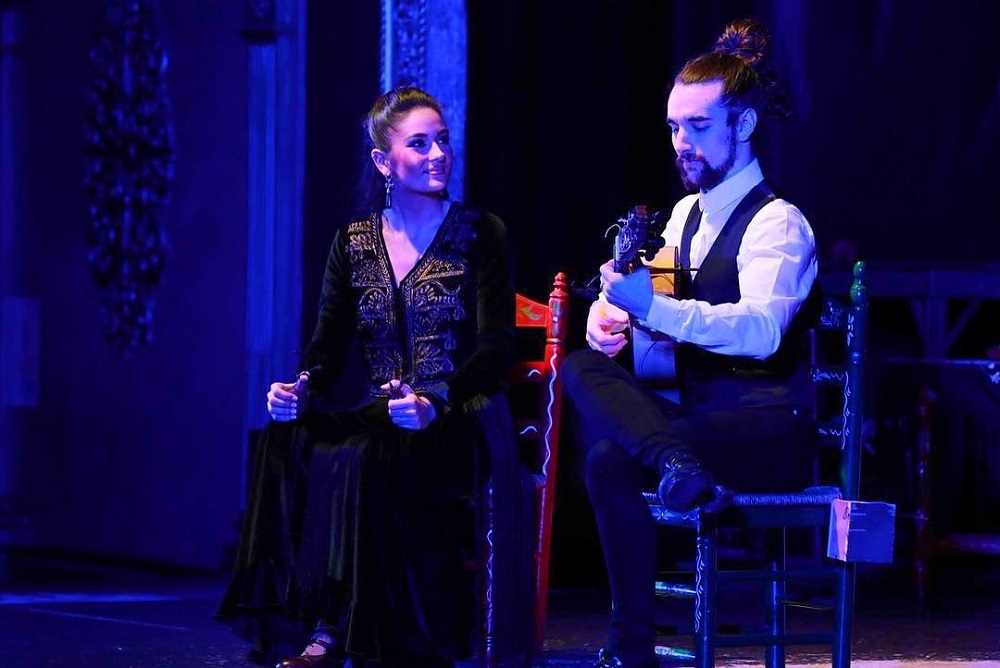 (Q): Within the flamenco show in which you participate in El Palacio Andaluz, what do you interpret?
(A): As we celebrate daily shows, the artists are rotating in the performances. The show begins with some joys in which I participate. I also usually play one of the pieces that are made with guitar and in some of the Spanish classic, such as the adaptation to flamenco of the opera 'Carmen' by Bizet. I participate in the seguiriyas dance with a bata de cola and I do a solo with castanets. But it depends on the day because I dance what I play, tarantos, tientos, cantiñas, soleá por alegrías, soléas …
(Q): And being part of a flamenco show with this one, what does it bring to an artist like you?
(A): It's a job that enriches you a lot. You dance daily and you are improvising continuously. This allows you to see what comes out of you, what you do better and worse because not every day you are the same. Being able to dance and transmit every day what you feel is something that enriches you a lot as a dancer. It allows you to form your style and character in flamenco.
(Q): Why would you recommend watching the flamenco show at El Palacio Andaluz?
(A): Because it is a very varied show and has many artists of different styles. In addition, it is a show that includes flamenco, classic and end of party. In the performance, there is also a lot of difference between the dance of the man and that of the woman and, whether you are or not understood of flamenco, it is a show with which you can enjoy a lot. The great variety that this show has is not found in other tablaos.
(Q): From your point of view, what characteristics does the flamenco dancer have to have?
(A): He or she has to know the flamenco singing, if he or she does not know it for me does not know how to dance. Because a flamenco dancer has to know where has to stand, when to stomp without stepping on the cante and, above all, to know the rules of the dance and not get away from it. You have to respect singing. Make a escobilla in conditions. If a falseta comes, knowing how to give it the air of the falseta depending on the style it is, it is not the same the silence of the alegrías or if they make a falseta of the taranto. For me this is fundamental and what makes an artist is or not a good flamenco dancer.
(Q): And what about the technique?
(A): I think a woman should have a nice hips and arms movement. And that a man who has strength of feet, speed and turn, the turn is important because it gives a lot of presence on the stage.
(Q): Is there an artist you would like to share a stage with?
(A): I would love to dance with Belén López because for me it is a piece of artist or with Alfonso Losa. As a guitarist, El Perla (father) I love it.
(Q): In which artists does Soleá de José fix?
(A): I really like watching videos of 'La Argentinita', Pilar López. Manuela Carrasco, La Chunga or Matilde Coral, who have been in her school and for me is a reference.
"The castanets are an instrument that can enrich flamenco a lot"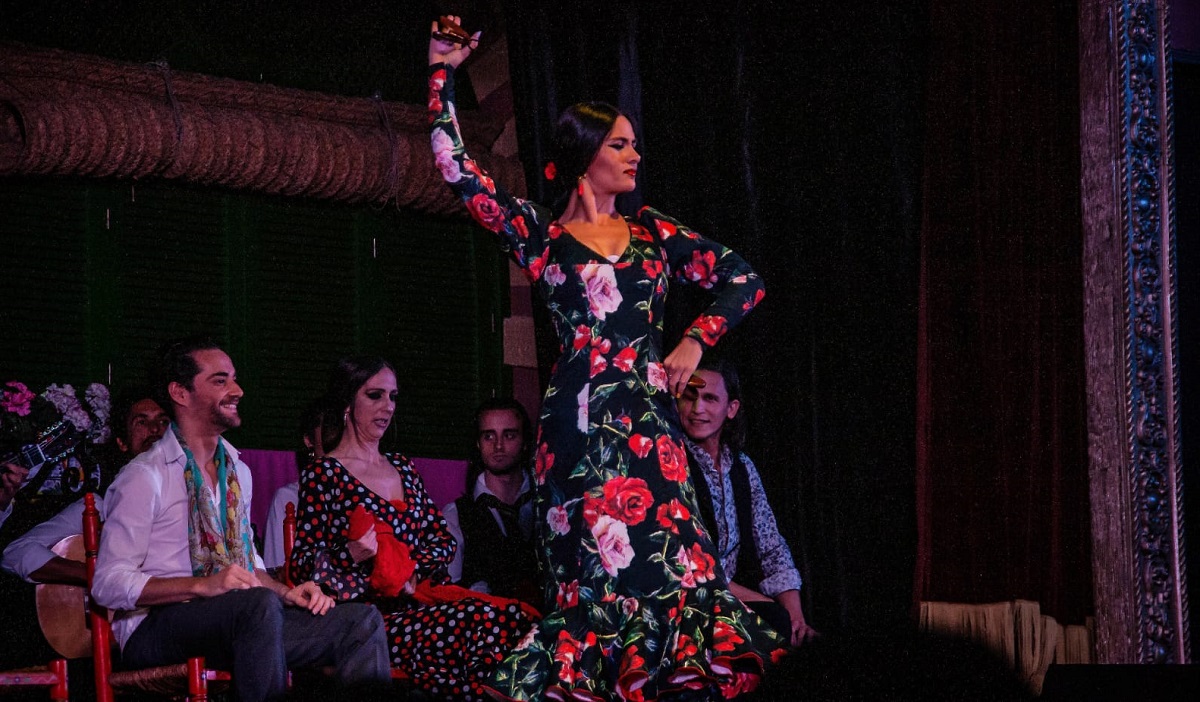 (Q): What aspirations do you have Soleá de José in his professional career?
(A): Now I'm focused on flamenco, but I've always wanted to be part of the National Ballet of Spain, although it includes other dance styles. It's something I do not rule out. In fact, I would love to enter the Ballet Flamenco de Andalucía. But if I talk about flamenco, besides continuing to dance in tablaos, I would love to be able to teach when I retire as a dancer.
(P): What footprint do you want to leave in flamenco?
(A): I play the castanets and I would like to leave my bit for it in flamenco. It seems to me an instrument that can greatly enrich this art. Not everyone knows how to touch the flamenco styles and take it to the stage. There are artists like Belén López or Águeda Saavedra who are doing very nice things.
(Q): To finish, what is flamenco for Soleá de José?
(R): It is, above all, a form of expression, a way of getting to know you because your personality is reflected in flamenco, yes or yes. It's a very nice way to express your feelings. I am lucky to be able to work on what I like and be able to transmit every day what I feel before the public.
Soleá de José. Do not miss this flamenco dancer at the El Palacio Andaluz tablao. If you visit Seville, you have to see this young artist live.