Flamenco in Seville, why do you must visit an Andalusian tablao?
If you are going to spend a few days on vacation in Spain, in Andalusia, and are looking for activities to organize your agenda, you have to include a visit to a flamenco tablao in Seville. Watching a flamenco show live is a must for anyone visiting this city, given the link that the Seville capital has with this Andalusian art.
If we dive into the history of flamenco, we can see how its origin is related to the arrival of gypsies in the countryside of Jerez and Seville in the 15th century, although it will not be until the 19th when this art begins to become popular, thanks to the appearance of the singing cafes and the boom that they acquired since then.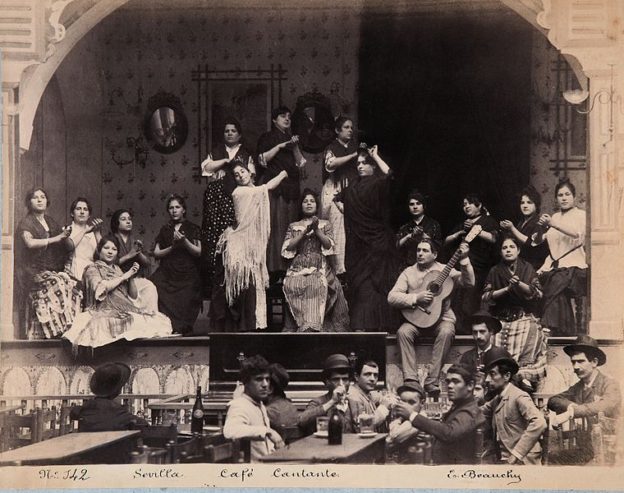 The first of these premises was opened in Seville in 1885. From then on, flamenco dancing and singing came out of family gatherings and private parties to become an attraction for the general public.
The work of Silverio Franconetti, singer and entrepreneur, was decisive in the promotion of these flamenco shows, despite the fact that he encountered the reluctance of some intellectuals of the time who argued that flamenco should not leave the taverns and meetings of friends.
But the rise of these singers cafes was more and proof of this are the current flamenco tablaos, direct heirs of those old premises, which have become unique and special places to see flamenco singing and dancing live.
Enjoy flamenco in Seville at the Tablao El Palacio Andaluz
Enjoy flamenco in Seville in an Andalusian tablao is a highly recommended experience for any visitor who wants to meet the flamenco elf.
There are places as emblematic as El Palacio Andaluz, a tablao that keeps the essence of the old Sevillian singers cafes and is decorated with Andalusian style and stamp.
In this flamenco tablao there are two daily shows, at 7:00 p.m. and 9:30 p.m., and the performance has a cast of artists that is unique in Andalusia. A dance corps made up of 16 people (9 dancers and 7 dancers), 3 guitarists and 3 singers give life to an exceptional and unusual show in the traditional flamenco tablaos.
During the hour and a half of the performance, the artists make a tour through different styles of the purest and most traditional flamenco and interpret other pieces of Spanish classic that do not leave the spectator indifferent.
A staging conceived by Emilio Ramírez 'El Duende', first dancer, artistic director and choreographer, who aims to awaken the emotions of the audience and convey the passion that artists feel for this art.
Flamenco in Seville with dinner
At El Palacio Andaluz you can have a drink, a tapas or a la carte dinner while watching the flamenco show an option you choose when you make your reservation.
Also if you visit the city with your family and you want to enjoy an evening of flamenco in Seville with your children, in our tablao we have special prices for children. The reservation is free for children from 0 to 6 years old and has a discount of 50% for the service they hire for children from 7 to 12 years old.
You know, if you are thinking about spending a few days in the city of Seville, you have to include your visit to a flamenco tablao to see a live flamenco show. It is a unique and highly recommended experience, especially when you are in a city with such a connection to this art.
Take note of our suggestion and if you decide to visit El Palacio Andaluz, do not hesitate to make your reservation online and enjoy our special prices for advance purchase. We are sure that if you attend our flamenco show, you will not regret it!