Visit a flamenco tablao in Seville, a unique experience
If you are going to spend a few days off in the Andalusian capital, include a visit to a flamenco tablao in Seville in your cultural leisure plan. Whether you shudder when you hear some alegrías, a fandango or a bulería, as if you are not very fond of this artistic genre, meeting the 'duende' in this city is an essential given the meaning that flamenco art has in Andalusia.
Seville is the birthplace of flamenco, something that is felt in many of its corners. It is a city full of history and the result of the mixture of cultures that have passed through here over time. The taste for singing, dancing and the guitar that exists, spreads visitors.
Therefore, if you have already planned your trip or are in the Spanish capital, let yourself be seduced by this artistic genre. The best way to do this is to go to a flamenco tablao in Seville, without a doubt, it is a unique opportunity to get to know this genre with capital letters.
Under a decoration with Andalusian style, the silence is broken with the strumming of a guitar. They are followed by palms and a 'zapateado' breaks into the tablao. So start a fandango…. You can imagine this scene, but if you don't live it in the first person, you can never understand why you should pay attention to our recommendation.
Tablaos are very special to feel flamenco, a genre that awakens all the senses thanks to the strength and momentum of each movement and the sounds that are generated during a show. They are authentic cathedrals of an art that excites and where a unique atmosphere is created, which maximizes that communion that is born between the public and the artists.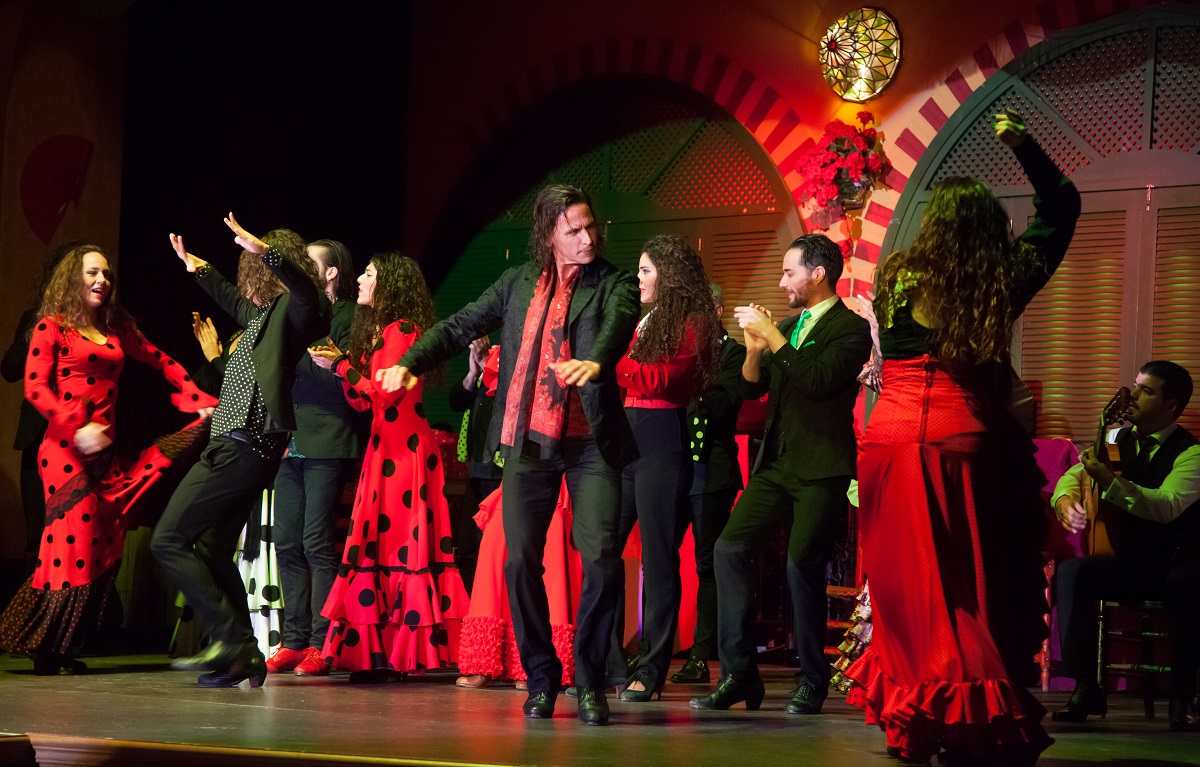 The role of flamenco tablao has been decisive for the history and evolution of flamenco, being responsible, to a large extent, for the popularization of Andalusian singing and dancing.
In these spaces they have learned and earned much of their fame prestigious singers, dancers and flamenco guitarists. They have been and continue to be a meeting point for professionals, lovers and fans of flamenco and have become the best place to have fun and enjoy this genuine art.
The flamenco tablaos of Seville have contributed to the recovery and maintenance of flamenco as a universal art, especially since it was declared Intangible Cultural Heritage of Humanity in 2010.
For all this, you cannot imagine a better place than a Sevillian flamenco tablao to enjoy a live singing, dancing and guitar show.
A flamenco tablao of Seville with a unique show
El Palacio Andaluz is a flamenco tablao of reference in Seville to see a live show. Located in the emblematic surroundings of the Isla de la Cartuja, a few minutes from the historic center of the city, here you can enjoy a unique show in Andalusia.
In a cozy atmosphere and with a strong Andalusian label, we offer you a tour of different flamenco traditional styles, to which is added a piece of Spanish classic and a flamenco version of the opera 'Carmen' by Bizet.
It is a different proposal, which highlights the number of people that make up the cast of this flamenco tablao in Seville. More than twenty artists come up every night to our stage to give life to a flamenco show directed by Emilio Ramírez 'El Duende', recognized as one of the best flamenco dancers in Spain.
An hour and a half of singing, dancing and flamenco music, a flamenco experience that you can complete while having dinner or having a drink. El Palacio Andaluz celebrates two shows every night, so you can choose to go at 7:00 p.m. or 9:30 p.m. and enjoy a family evening, as we have special prices for children.
In addition, with any of the reservation modalities you make, you will have the opportunity to know 'The Museum of Flamenco and Andalusian Art', an exhibition space with costumes and photos and other elements and hallmarks of Andalusia, as a recreation of a booth of The Fair of April.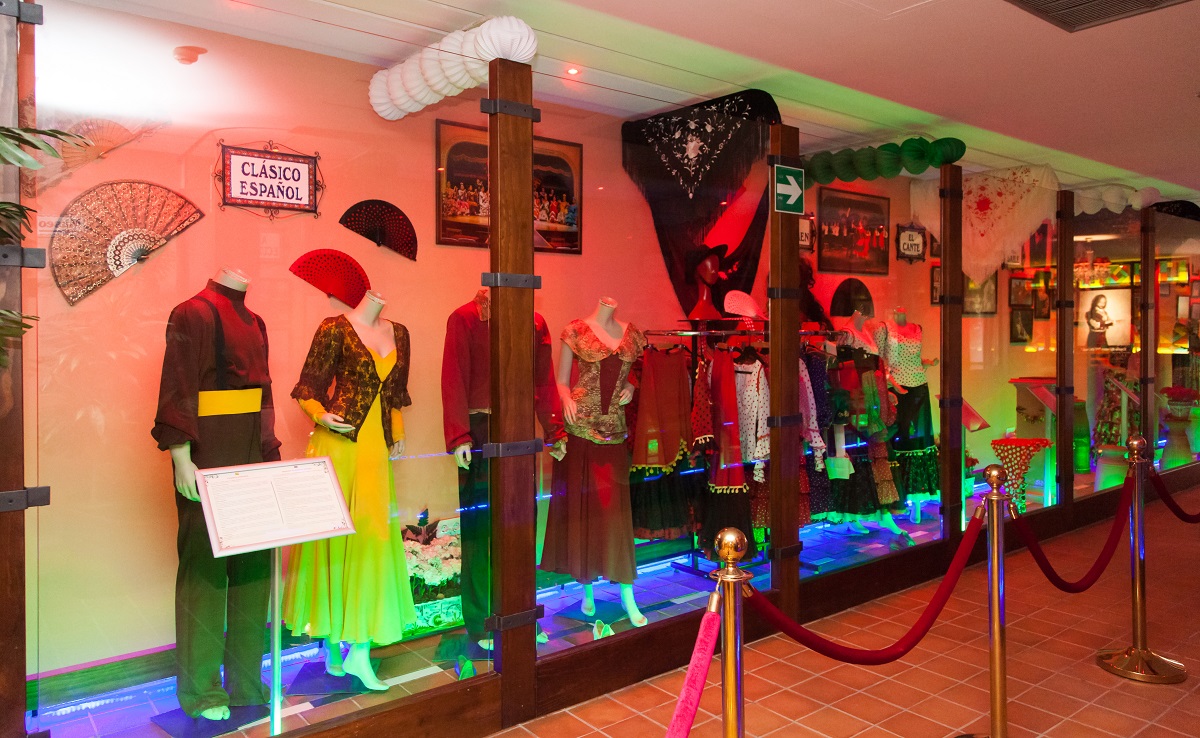 Follow our recommendation and include a visit to a flamenco tablao in Seville, as a must if you come or are in this city. At El Palacio Andaluz, we make it easy for you and you can make your reservation online so you can choose the day and time that best suits your interests.
In addition, we have a transfer service for our customers with special price closed and collected anywhere in the city of Seville, which can be booked on this link.
Meet the 'duende' in a flamenco tablao in Seville and feel this genuine and universal art in the first person.