Silvia Reina, a flamenco singer at El Palacio Andaluz
Before speaking, Silvia Reina was already singing. "This girl has a lot of compass," said her father when she was a child following the bulerías of Camarón. And he has it. She is a flamenco singer. Something that can not surprise us, if we consult your family tree. Descendant of flamenco singers from the neighborhood of San Miguel, Jerez de la Frontera, and Triana (Seville). A genetic inheritance that allows this young Sevillian to interpret some bulerías with such ease.
Although he graduated in Social Workers and worked as such, a decade ago he decided to train and devote herself to flamenco in a professional manner. For her, Fernando Rodríguez, has been key in her training and artistic career. Winner and finalist of several flamenco singing competitions, Silvia combines her daily work at the Tablao El Palacio Andaluz, with her role as composer. In addition, he teaches singing at the school he runs, with his partner, in Mairena del Aljarafe.
Admire artists like Fernanda and Bernarda, La Paquera de Jerez, Marelu of Badajoz, Porrina, Camarón, El Niño de la Huerta or La Niña de los Peines. She dreams of sharing the stage with Farruquito and has had the opportunity to sing in different countries of the world.
Keep learning and working every day. Flamenco is everything to her and she has no words to explain what "I feel when I sing". An artist with a clean voice and a broad and high attitude. An "elegant and wild" singer. Silvia Reina should not be imagined, we must see her sing.
In this interview, we invite you to get to know a little more about this flamenco singer who is part of the cast of artists of El Palacio Andaluz.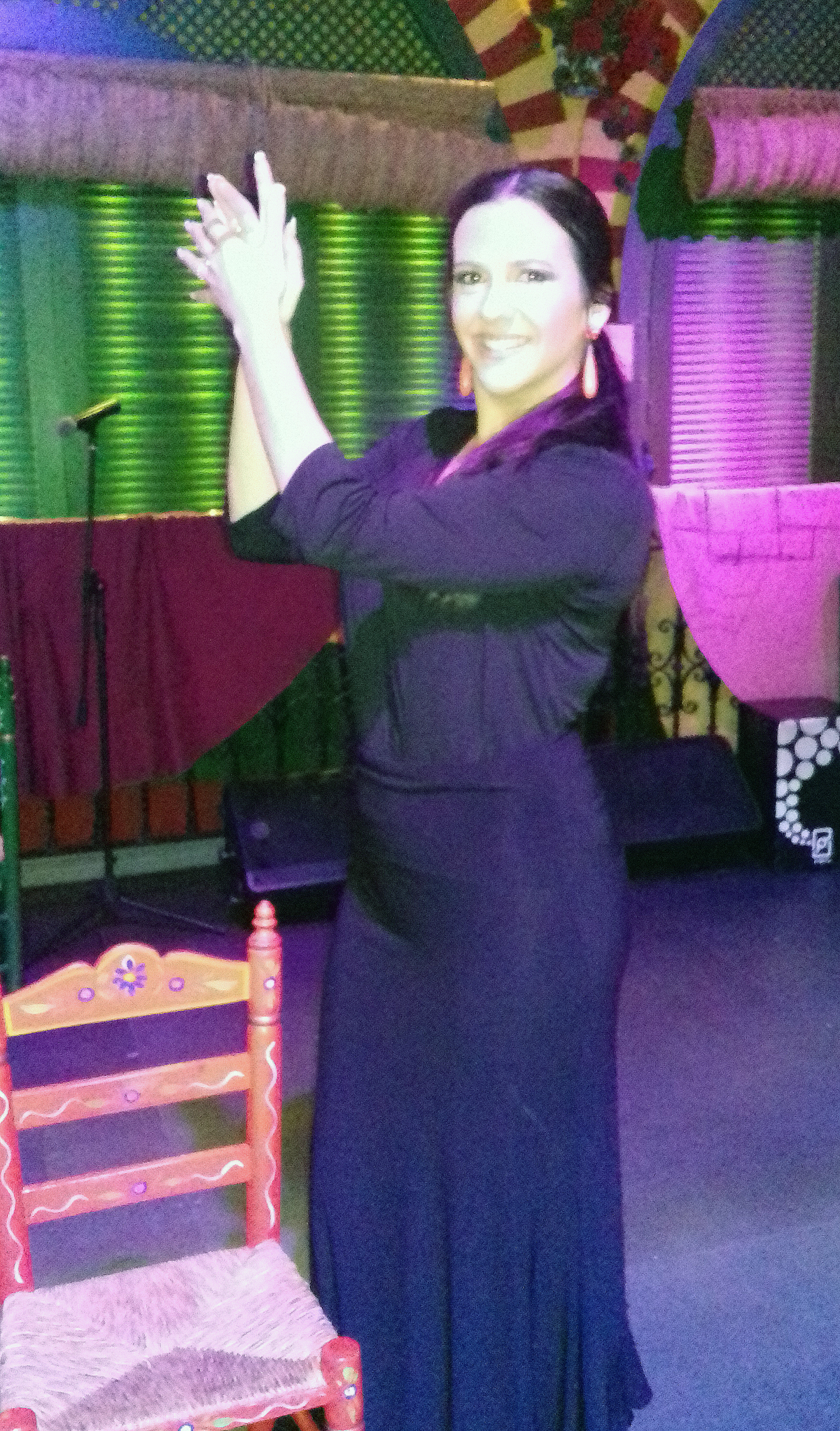 Question (Q): Who is Silvia Reina?
Answer (A): Silvia Reina is a flamenco singer who, before speaking, sang. I was not even two years old, when I already pointed out ways and I could tell that music and art were going.
I've always sung, but ten years ago I decided to dedicate myself professionally to this world and I worried about training to be prepared for it.
(Q): What has been that formation?
(A): I have grown up with music. My father is a musician and music has always been present in my house. That has helped me in several aspects like going 'making my ear'.
However, I graduated in Social Workers and exercised as soon as I finished my degree. Once I started working, it was when I decided to start training and dedicate myself professionally to singing.
I studied for six months at the Cristina Heeren Foundation. Then I began to receive classes from Fernando Rodríguez, whom I consider key in my training and professional career. With him I have learned up to forty flamenco styles.
I have also attended several master classes with relevant artists such as Encarnación Fernández, who is the best singer in cantes de levante; Angelita Montoya; or guitarists who know a lot about singing like Antonio Carrión. I feel the need to always learn.
An artist with very flamenco roots
(Q): Tell us, Silvia, what is your relationship with flamenco and why are you part of this artistic world?
(A): In my family there are many artists, although not all of them are professionals, nor are they dedicated only to flamenco. For example, my father sings, plays the saxophone and the guitar, but he plays songs of the Madrid movement and something flamenco. I have an aunt who does sing flamenco, just like my grandfather did …
On the paternal side, I have roots from the San Miguel neighborhood of Jerez de la Frontera, flamenco singers who settled in Triana, where I also have a family that sings. These are my props.
(Q): Well, with these credentials … no wonder you're a flamenco singer.
(A): Yes, genetics is that it is very strong. There is a style in which I have always shown to be very fluent which is the bulería, a style originally from Jerez and, in addition, one of the most complicated to interpret and to which flamingos have a lot of respect.
Since I was a little girl, my father used to put me in Camarón's bulerías and I used to do tongue twisters at the same time. He said, "This girl has a lot of compass". It was something that came out naturally.
(Q): How has your professional career been?
(A): I consider myself a lucky person. Thanks to flamenco I have traveled all over the world. I have sung to the royal family of Bahrain; I have taught at an important school in Finland, which usually takes reference artists and flamenco professionals; and I have performed on stages in different countries.
In addition, I have participated in the first three editions of the Flamenco Festival of Bormujos and in several festivals in Cádiz or France, among others.
(Q): Have you participated in any flamenco contest?
(A): Yes, in several and I have several awards. For example, I was second in the Concurso de Cante Murcia Flamenca; I won the Soleá Apolá prize at the Concurso de Cante Flamenco para Jóvenes Ciudad de Morón; I was first in the Concurso de Cante Flamenco 'E.L.A. de Zahara de los Atunes', the Concurso Nacional Cante Flamenco 'Villa de Torrox' and Concurso de Cante Flamenco Ciudad de Torremolinos.
I have been a finalist for two consecutive years in the flamenco singing contest of the 'Curro de Utrera' club and I have also been a finalist in the Concurso Nacional de Cante Flamenco Ciudad de Carmona. 
I feel very proud of these awards that I have achieved, because they have been in a period of three years, but the prize if you do not take it as a 'push' to your career, it really does not help at all. It is a way to train yourself.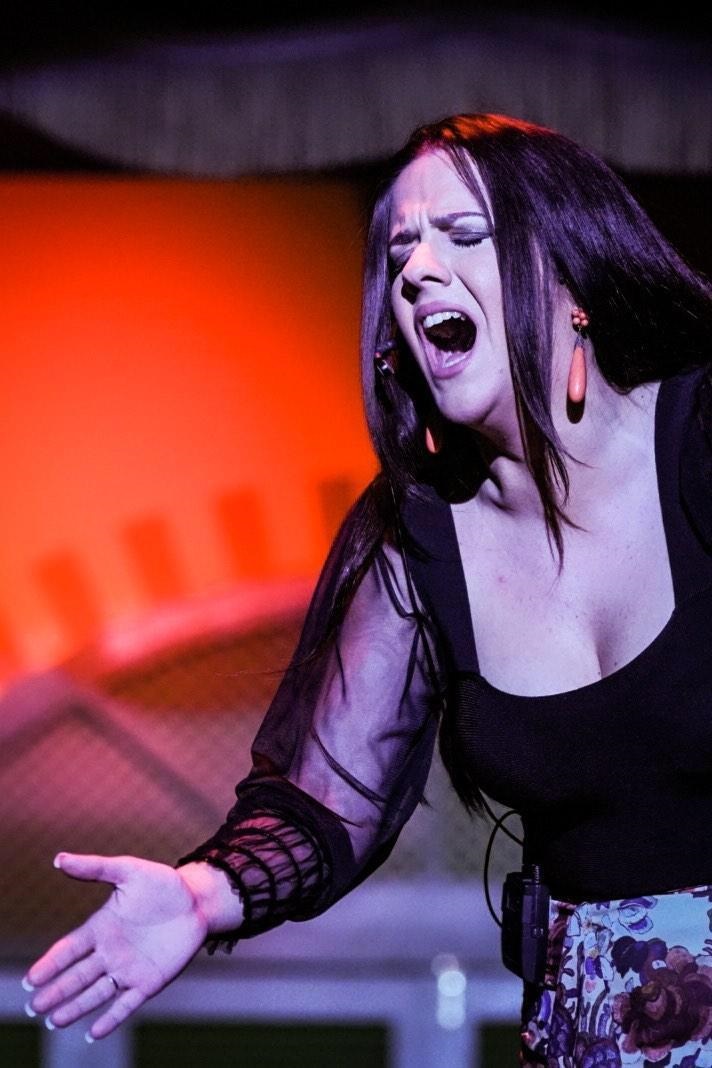 (Q): Do you combine singing with something else?
(A): I teach singing in a school that I have, together with my partner who is a guitarist, in Mairena del Aljarafe. I decided to take this step because I wanted to give other people my work method to learn how to sing each style.
It is something that I had never considered, but it is a facet that I like very much and I am doing very well.
(Q): Have you collaborated on a specific show?
(A): Yes, I was lucky enough to act with Gualberto García, who collaborated with Camarón, and sing the 'Nana del Caballo Grande', something that for me was a very important experience.
I have also released part of my show 'From Seville to Sacromonte', a project that I have underway because I am starting my facet as a composer.
At Christmas, I premiered my first Christmas carol in the Zambomba Flamenca of Lebrija, a city that for me is a very lively flamenco root and from which I feel very close.
An 'elegant and wild' flamenco singer
(Q): How is Silvia Reina as a flamenco singer?
(A): There is one thing they told me once and it made me very funny. A woman from the Cultural Association «El Roete», with whom I participate taking flamenco to schools, defined me as a "singer who has the same elegant as wild".
It caught my attention because I think it does define me. I like to be complete, that is, I get tired of studying and seeing the style technique to feel safe and when interpreting, drop everything. In addition, I consider myself a cantaora who, besides singing, counts.
(Q): How important is the interpretation in flamenco singing?
(A): Flamenco is a conductive link of emotions, feelings and moods. That must be transmitted to reach the viewer. But it is curious what can happen to artists. Maybe you are singing a sad style, such as the seguiriyas, and you realize that it is going so well, that you feel joy. It is something wonderful. You are taking out your pain and it is producing great satisfaction.
(Q): Speaking of flamenco styles, which one do you like to interpret the most?
(A): The truth is that I like all the sticks because each one brings me something different. I love fandangos and singing through bulerías makes me feel free.
(Q): Who are your artistic references?
(A): Very many …. I really like Fernanda and Bernarda, La Paquera de Jerez, Marelu of Badajoz, who they say I look very much like, the Extremaduran singings of Porrina, Camarón, El Niño de la Huerta, La Niña de la Huerta, La Niña de los Peines…
Flamenco singing is "the most wonderful thing in the world"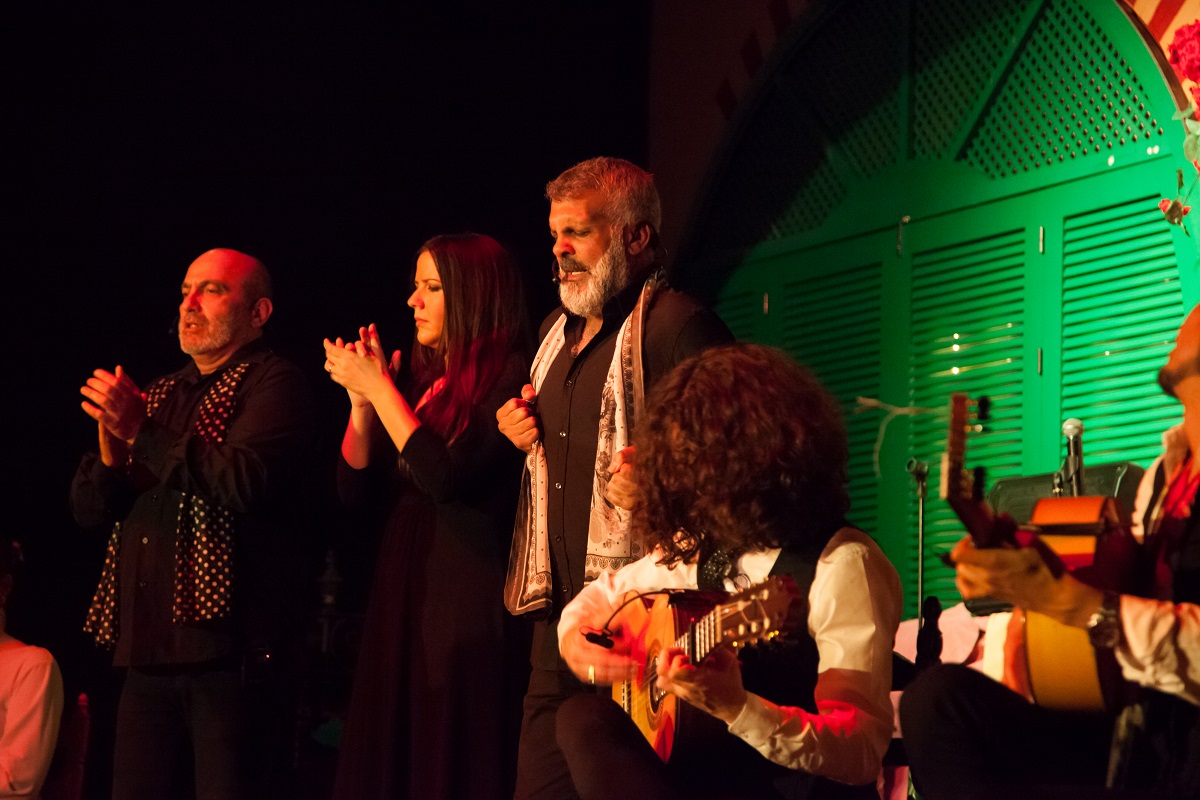 (Q): Who would you like to share the stage with?
(A): With Farruquito. It is something I have to do.
(Q): And, with whom have you done it and for you it has been a very rewarding experience?
(A): With singers like José Valencia, Antonio Reyes and El Perrate and with the dancer Concha Vargas.
(Q): Flamenco is for you ….
(A): It's a way of life, a way of feeling, of expressing yourself, a feeling, a joy, for me flamenco is my life.
(Q): And flamenco singing?
(A): It's the most wonderful thing in the world. I don't know how to explain what I feel when I sing.
"You can't interpret a flamenco style in any way"
(Q): What characteristics does a good flamenco singer have to have for you?
(A): You have to be a good fan of this art. You have to worry about learning each style well. For me flamenco is something untouchable, where there is no place for carelessness. You cannot interpret a style in any way. You have to know it well and you already print your personal stamp.
(Q): What do you aspire to in your professional career?
(A): I would like to know every corner of the world singing flamenco. Continue to dedicate myself to full and satisfied singing and with the restlessness I have now.
(Q): Silvia is more, a singer for dance or soloist?
(A): I am more focused on the 'cante p'lante' (with the guitar and some palms), but at El Palacio Andaluz I am a singer for dancing, because as I said before, I like to be a complete artist.
A flamenco singer with "a clean voice"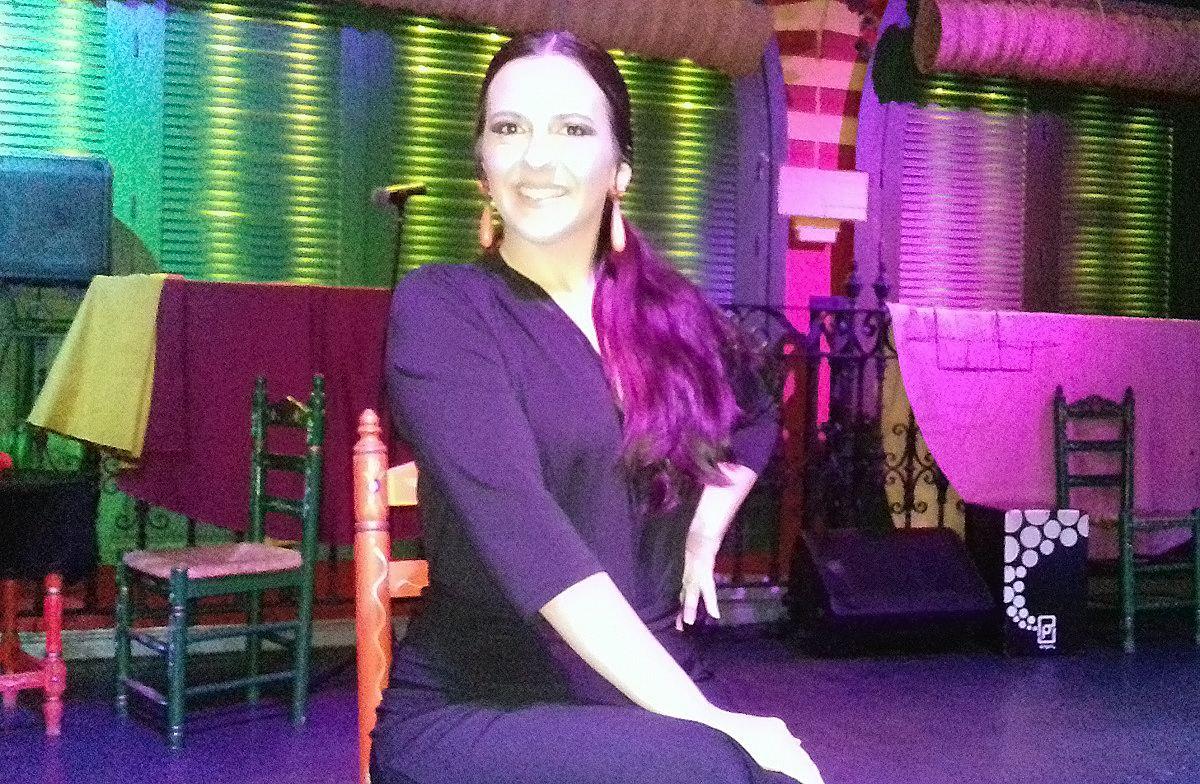 (Q): As features, let's say more techniques, how would you describe yourself?
(A): I have been told that I have a mix of many singers. With all due respect, I have been told that I remind you of the way to place and force La Paquera and the depth of La Fernanda, which really are my referents.
As for my qualities, I have a clean voice, a high and broad attitude, I have low ones too.
(Q): How is it for a singer to get on a daily flamenco show like this?
(A): First of all, tablao is a sacred temple for me and we must always feel respect. Even if you act every day, there is always something new. Every audience is different and every day is also for you.
(Q): Why do you recommend attending the flamenco show of El Palacio Andaluz?
(A): This show, although it has a marked script, always has moments of surprise and improvisation. The 'duende' is called and that leaves something in the public. Each artist always brings something and that is essential for the final result.
(Q): What do we see of Silvia Reina every night in this flamenco tablao?
(A): Everything, because when I go on stage I deliver everything, as if it were the last time.
A test of the voice that this artist has, in the following video singing, of course, by bulerías.
Silvia Reina must be seen. If you visit Seville, don't miss it in the daily flamenco show celebrated by El Palacio Andaluz. Don't be told how he sings. You have to enjoy your voice in the first person.