SEE A FLAMENCO SHOW IN SEVILLE
If you are planning to spend a few days of rest in the Andalusian capital, do not forget to see a flamenco show in Seville. There are plenty of reasons to make this recommendation because visiting the city of the Guadalquivir means enjoying flamenco singing and dancing, especially if you want to get closer to part of the essence of Andalusian culture.
Flamenco is one of the purest expressions of Andalusian folklore. Its origin is linked to the arrival of the gypsies in the Cadiz countryside of Jerez and Seville in the fifteenth century. It was not until the mid-nineteenth century, when this artistic expression became popular thanks to the emergence of singing cafes.
In Seville, there are multiple spaces that invite you to soak up this Andalusian art, but without a doubt, the most recommended option to see a show of these characteristics is to visit a flamenco tablao. These places are the direct heirs of the old Sevillian singer cafes, spaces where flamenco began to become professional and popular, hence attending a flamenco tablao to see dancing, singing and guitar live is an experience full of emotions.
In these places, flamenco beats and almost is played with hands, thanks to the atmosphere that creates the time in which artists are on stage. Pure magic! In Seville, you can enjoy daily of magnificent flamenco shows in the different tablaos that dot the city.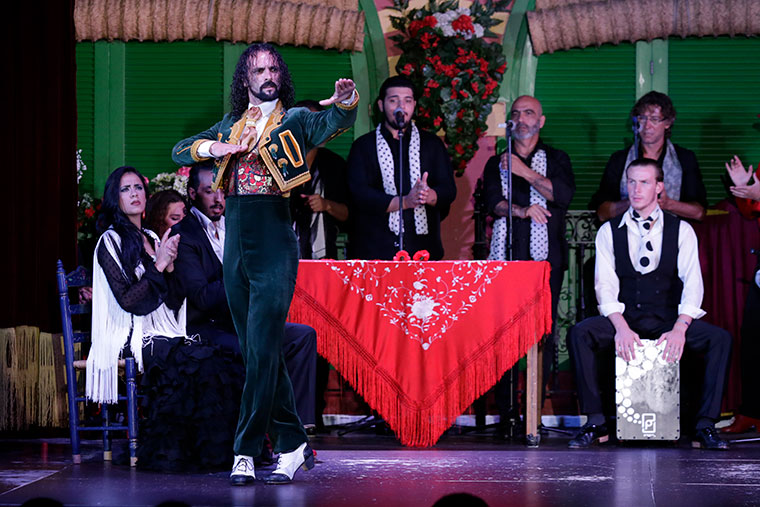 A unique flamenco show in Seville
Whether or not you are a flamenco lover, what is certain is that seeing a flamenco show live is a worthwhile experience. If you are looking for a show with professional artists, at El Palacio Andaluz you can enjoy a performance with the different styles of flamenco, which includes some pieces of Spanish Classic.
If you wonder why this flamenco show is unique in Seville, we have the answer. It has the largest cast of artists, in number of people, for a show of these characteristics.
More than twenty professionals (singers, dancers and guitarists) give life to this function of pure and traditional flamenco, which includes alegrías, bulerías, guajiras, tango, farruca, tarantos, seguiriyas, soleás, alegrías, cañas and sevillanas, among other styles of flamenco.
During the show, the artists also perform several pieces of Spanish Classic such as 'Torre del Oro', 'Boda de Luis Alonso' and 'Sevilla', as well as a flamenco adaptation of the Opera 'Carmen'. All this in an hour and a half, a time that is short given the artistic quality of the performance.
Two daily flamenco shows
The tablao El Palacio Andaluz is a space with history and tradition. It is located in the emblematic neighborhood of La Macarena and is an old factory, built in the nineteenth century.
Its interior keeps the aesthetics of the old Sevillian singer cafes. It has several floors and spaces decorated with Andalusian style and stamp. The main room, type cafe-theater, is wide and with direct view to the stage, which allows to enjoy to the maximum and with detail the flamenco shows that are celebrated daily (at 19:00 and 21:30 hours) in this flamenco tablao of Seville.
In addition, El Palacio Andaluz has several floors, housing on the ground floor "La Bodega Museo", an exhibition space that houses "The Andalusian Museum of Flamenco and Art" and which is accessed free of charge with any of the reservations perform to see the show.
And another of the advantages offered by this Sevillian tablao is that during the flamenco show, the public has the option of having a drink or tasting an excellent a la carte dinner or tapas, with dishes of new Andalusian cuisine. That is, if you visit El Palacio Andaluz you can enjoy an authentic Flemish evening and test all the senses.
Another option that allows this tablao is the possibility of attending the flamenco show as a family because it is allowed to enter minors accompanied by adults. In addition, we have special prices for children, free entry for children under 6 years.
Therefore, if you plan to travel to the Andalusian capital, do not hesitate to see a flamenco show in Seville because it is an experience that you have to live in first person. In El Palacio Andaluz, we also offer you the opportunity to enjoy a magnificent dinner or drink, while you watch the show. If you do not want to stay with the desire and are determined or determined to meet the Andalusian elf in the Sevillian capital, you can make your reservation online and, in this way, you can choose the day and time that best suits your vacation plan.