Flamenco Tablao in Seville with dinner, perfect plan for your holidays
If you plan to spend a few days in Andalusia and you are going to visit the capital of Seville, add this activity to your plan: tablao flamenco in Seville with dinner. You will not regret!
Why do we make this proposal? Because watching a flamenco show live is a worthwhile experience, especially if you are passionate about this art. And to enjoy a show of these characteristics, the ideal thing is to do it in a flamenco tablao, without a doubt, the best place for the delight of our senses.
If we have convinced you that this plan is 'essential' in your visit to Seville, the second step will be to decide where to go. Take note: El Palacio Andaluz. Why do we propose to visit our flamenco tablao? We tell you the reasons.
1. Flamenco tablao in Seville with dinner
In our tablao you can see a unique flamenco show while you enjoy a dinner with tapas or a la carte of the best gastronomy. We have a varied menu with typical Andalusian dishes, salads, meats, fish, as well as traditional desserts.
If you do not want to dine, do not worry because we also give you the option to watch the show accompanied by your favorite drink, be it wine, a soft drink or a drink. You choose.
This plan that we propose to you of flamenco and dinner will allow you to enjoy, by double game, of a pleasant evening in a place that recreates an atmosphere with marked Andalusian seal.
2. Unique flamenco show in Andalusia
At El Palacio Andaluz you can see a flamenco show that is unique in Andalusia. The reason? Our tablao has the largest number of artists for a daily show of these characteristics. A cast of dancers, guitarists and singers with an artistic career of recognized national and international prestige.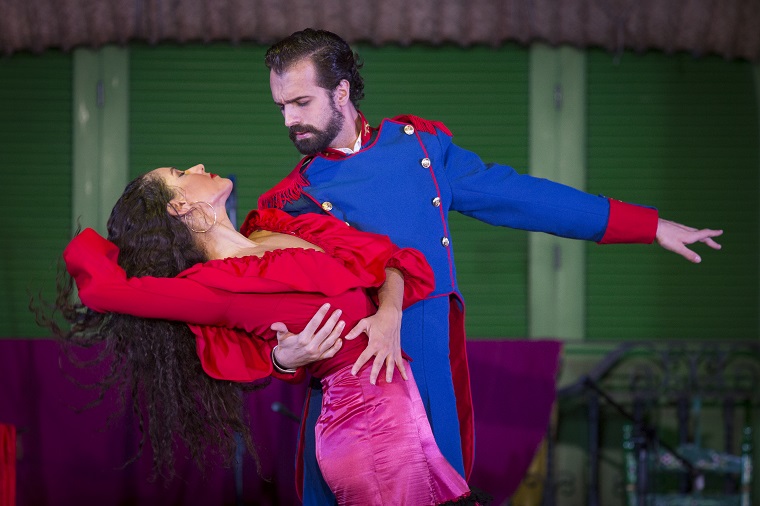 3. Show chosen by TVE (Spanish Television) for the diffusion of flamenco
Our show has a sensational staging that combines the most pure and traditional flamenco with other contemporary pieces. The result is a performance of great visual quality and artistic value, characteristics that have led TVE to choose our show for the diffusion of flamenco as a model and example of the most deeply rooted Spanish popular culture.
4. Two daily passes to enjoy flamenco in its purest form
Another advantage we offer you at El Palacio Andaluz is that you can choose the function that best suits your interests. We celebrated two daily passes, the first at 7:00 p.m. and the second at 9:30 p.m. The show lasts one hour and thirty minutes, so you have the option to see the show at the time that suits you best.
5. A show directed by Emilio Ramírez 'El Duende'
Our flamenco show bears the signature of Emilio Ramírez 'El Duende', recognized as one of the best dancers in Spain. This artist, who has a long and distinguished career, is the main dancer, choreographer and artistic director of a show full of passion and feeling.
The performance is designed for the public to enjoy flamenco with capital letters and for this the artists take a tour of the different flamenco styles. On the stage there is no shortage of alegrías, tarantos, seguiriyas, soleás, alegrías or cañas, among others, to which we must add a flamenco version of the Ópera Carmen.
Flamenco music live and a masterful interpretation, with final surprise included, that will awaken all your emotions. It is an experience that you have to live and enjoy in the first person to feel that connection that is established between the public and the artists.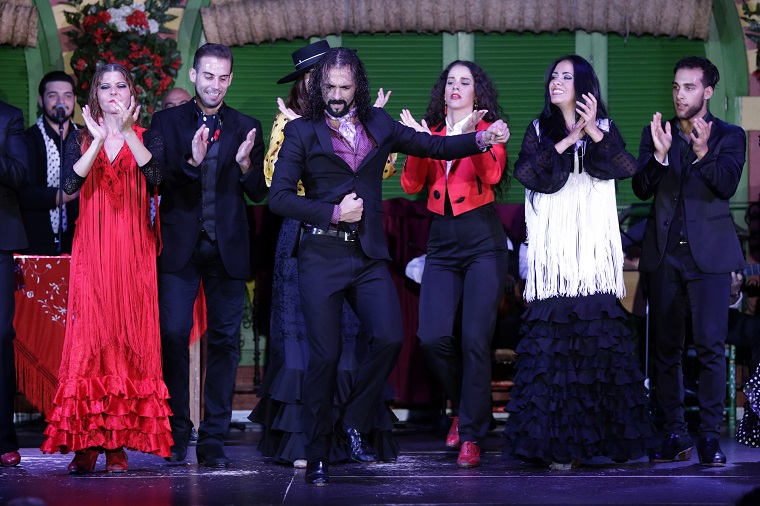 6. Special prices for online bookings
So that nothing can fail in your plan to visit a flamenco tablao in Seville with dinner on your holidays, make your booking online and in this way make sure you can see the show during your stay in the capital of Seville. In addition, this option has its reward because you can benefit from our discounts for early purchase in all our proposals.
7. A plan for the family
If you travel as a family, this plan is suitable for everyone. We also have special prices for children: free for children from 0 to 6 years old and 50% discount for children from 7 to 12 years old. So you can enjoy the flamenco show with dinner or drink the whole family.
8. Free visit to 'The Museum of Flamenco and Andalusian Art'
This flamenco tablao plan in Seville with dinner also includes a free visit to the Bodega Museo, an exhibition space inside the building that houses "The Andalusian Museum of Flamenco and Art" of Seville.
In this space, there are costumes and photos of the artists that give life to the flamenco show of our tablao, as well as other Andalusian elements and signs of identity, such as the art of wine or equestrian art, among others.
In the Bodega Museo you can also see a recreation of a booth of the Feria de Abril, the most international Andalusian festival.
Have we convinced you? If the answer is affirmative, make your reservation online so that you do not stay with the desire to enjoy this flamenco tablao plan in Seville with dinner or consumption.
If you're still thinking about them, we'll leave you with our flamenco show for a moment so you can convince yourself.