Flamenco in Seville, a hundred-year-old idyll
Talking about flamenco and not referring to Seville is a very complicated feat. The links that link the Andalusian capital with this universal art go back to the beginnings of cante jondo and continue alive today. It is an idyll that feels, when you walk through this city. Flamenco in Seville breathes in the atmosphere.
Although it has not been established an exact time and place of the origin of flamenco, it is clear that this art was born in Andalusia, on the banks of the Guadalquivir, hence this region has a key role in the history and evolution of it.
Fruit of the legacy left by the different cultures that have passed through Andalusian lands, flamenco in Seville has Greek, Roman and Muslim influences, but it was not until the 18th century that this art took on a professional aspect and began to become popular. In this evolution and opening to the public, three important focuses emerged: Jerez de la Frontera, Cádiz and the Triana neighborhood (Seville).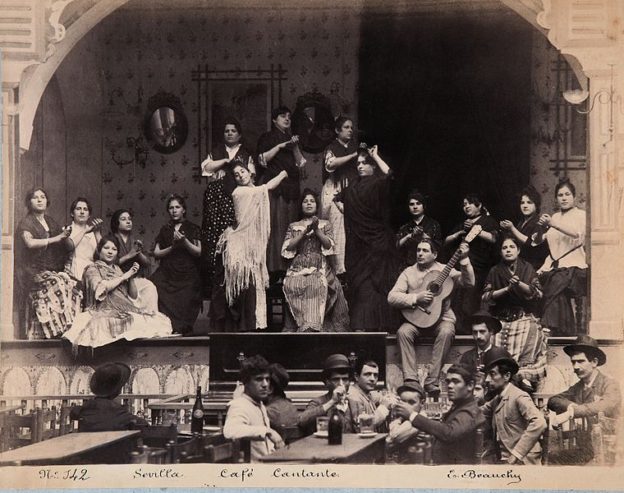 Triana is considered one of the cradles of flamenco in Seville. This neighborhood saw the birth and growth of this art to the point of becoming the epicenter of flamenco during the eighteenth and nineteenth centuries.
In fact, many artists and cante jondo teachers have been born, grown up or imbued with the 'flamenco customs' of this neighborhood, such as El Fillo, Naranjito de Triana or Tío Antonio Cagancho or Esperanza Fernández, among many other singers, guitarists or dancers that we are left in the inkwell.
Given the flamenco activity and creativity that arose here, it is no accident that Triana has its own style of flamenco singing and dancing known as the soleá de Triana.
But it has not been the only contribution to this artistic genre, since other fundamental styles of cante jondo were also forged, such as seguiriyas, soleares and tonás. And other singings and festive dances par excellence, such as tangos and bulerías.
Figures from the 20th century such as Matilde Coral, Rafael el Negro, El Arenero, Milagros Mengíbar, Manuela Carrasco, Paco Taranto and Angelita Vargas, among other artists, turned this corner of Seville into a reference for flamenco art.
Enjoy flamenco in Seville
While, in the mid-nineteenth century, in the suburbs of Triana was sung in taverns, in the rest of the city of Seville, flamenco acquired public character by holding shows in theaters and cafés singers, rooms with tables and chairs for attendees, places that have become the current flamenco tablaos that dot the city of the Guadalquivir.
That flamenco is felt in Seville is evident. Throughout the year, the city is a stage dedicated to dancing, singing and flamenco guitar, not only because of the innumerable venues that celebrate daily shows, but also because of the festivals, events and activities that are developed and that allow to enjoy the flamenco to own and strangers.
Among the many alternatives that flamenco lovers have to enjoy this art so genuine, one of the best proposals is to see a live show in one of the many tablaos in Seville. These establishments continue to keep alive the authentic spirit of flamenco, which is undoubtedly the best option to experience in first person the passion and emotions that this art has, recognized as a Intangible Cultural Heritage of Humanity.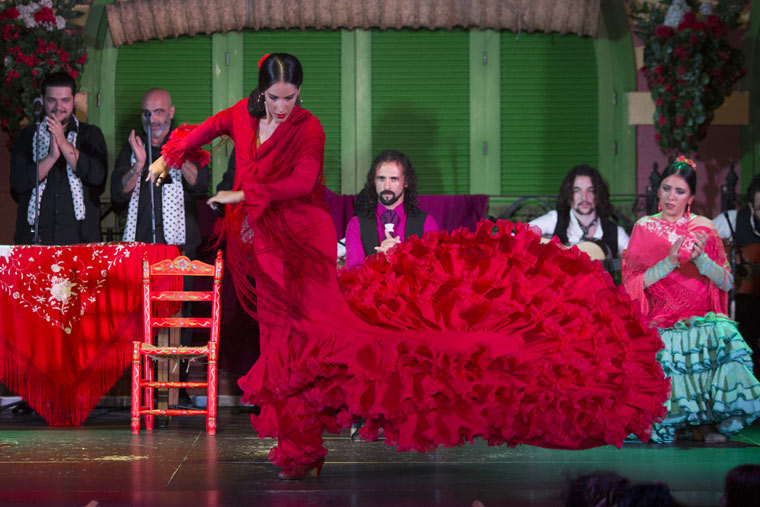 See a flamenco show in Seville
If you ask yourself, where can you see a flamenco show in Seville, our suggestion is to visit El Palacio Andaluz. This tablao has a unique show in Andalusia, interpreted by the largest cast of artists that exist for a performance of these characteristics in the city. Hold two daily passes, at 7:00 p.m. and 9:30 p.m., and you can choose between watching the show with drink or dinner.
If you want to wrap yourself in a unique atmosphere, with a marked Andalusian stamp, and discover the essence of this universal art, do not hesitate to make your online reservation at El Palacio Andaluz. You will enjoy the purest and most traditional flamenco in the emblematic neighborhood of La Macarena.