What is a flamenco show and why do you have to watch one live?
Flamenco is an artistic expression that emerged in Andalusia as a result of Gypsy, Arab, Jewish and Christian cultural miscegenation. This Andalusian art integrates singing, dancing and music, mainly from the sound of the guitar.
The different flamenco styles, known as 'palos', are characterized by great emotional intensity, both in the lyrics of the songs and in the performance of the artists, be they singers, dancers or guitarists. Hence, watching a live flamenco show is a highly recommended experience, given the atmosphere created during the performance.
And, without a doubt, the flamenco tablao is the best place to enjoy a show of these characteristics. Heirs of the old cafes-singers, tablaos emerged with strength between 1860 and 1919, a stage known as the Golden Age of Flamenco.
Although originally, flamenco was only singing, flamenco dancing began to arouse the interest of the public that came to the tablaos. At the height of the dancers, the use of the guitar was added as a key accompaniment of singing and dancing. Fruit of this fusion are the flamenco shows that we can enjoy today, in which there is no lack of singing, dancing and the strumming of a guitar.
From 1955, flamenco tablaos evolve to become reference points to approach this universal art. In Andalusia, the cradle of flamenco, is where most tablaos are concentrated. They are places that host flamenco performances that are increasingly attended by people interested in flamenco and with the purpose of enjoying the strength, talent, art and the duende that artists waste on these stages.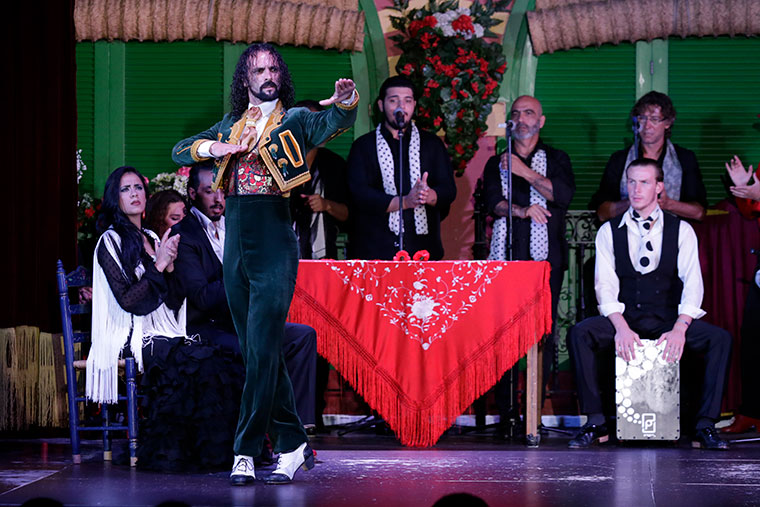 What to see in a flamenco show?
Although it depends on the flamenco tablao that you choose to see a flamenco show, during the performances different flamenco styles are played that combine music, song and dance. One of the characteristics of these shows is that they invite artists to improvise, so even if they have a specific choreography or structure, it can be said that each function is unique.
During a flamenco show, the artists interpret different styles with different rhythms, lyrics and styles, characteristics that add to the expression of the performers. For example, siguiriya or soleá are more dramatic cutting sticks, while alegrías invite more to optimism and create a more festive atmosphere during the show.
Through lyrics, sound and dance, artists also express their emotions, using body movement, music, rhythm, singing and, above all, improvisation to convey their feelings.
When a person attends a flamenco show, it is best to let oneself be carried away by the atmosphere created in the flamenco tablao. This implies abandoning reason to give way to feeling. You have to get excited about what the artists transmit on stage. In this way, you will experience what is really flamenco, an art of pure emotions.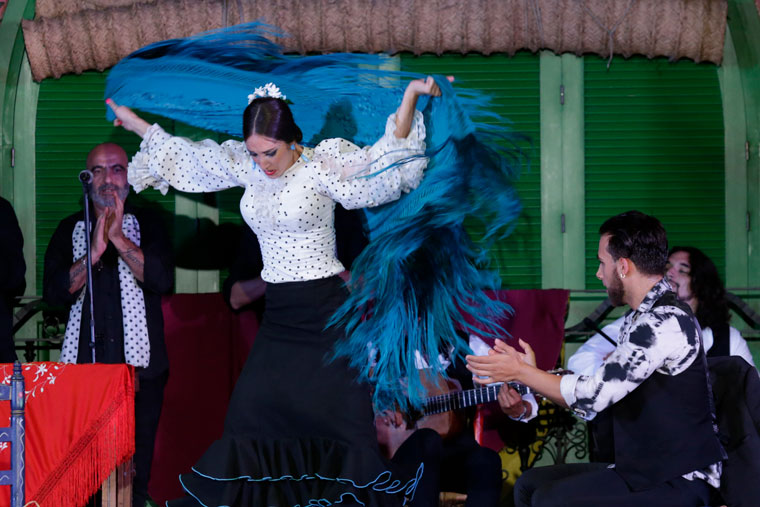 A unique flamenco show in Andalusia
If you want to see a unique flamenco show in Andalusia, we invite you to visit El Palacio Andaluz, an emblematic Sevillian tablao where you can enjoy flamenco in its purest state, thanks to the artistic quality of our show, which has been chosen by TVE (Spanish Television) for international broadcasting of this art.
The Tablao El Palacio Andaluz function, carries the rubric of Emilio Ramírez, 'El Duende', recognized as one of the best dancers in Spain. Emilio is a principal dancer, choreographer and artistic director of this flamenco show full of feeling and passion.
This show, which celebrates two daily passes (7:00 pm and 9:30 pm), brings together the whole flamenco tradition in this demonstration of power, art and Andalusian grace making a tour of different dance styles such as bulerías, soleás, alegrías , fandangos, seguiriyas, cañas or sevillanas, to which we must add the flamenco adaptation of the Opera 'Carmen'.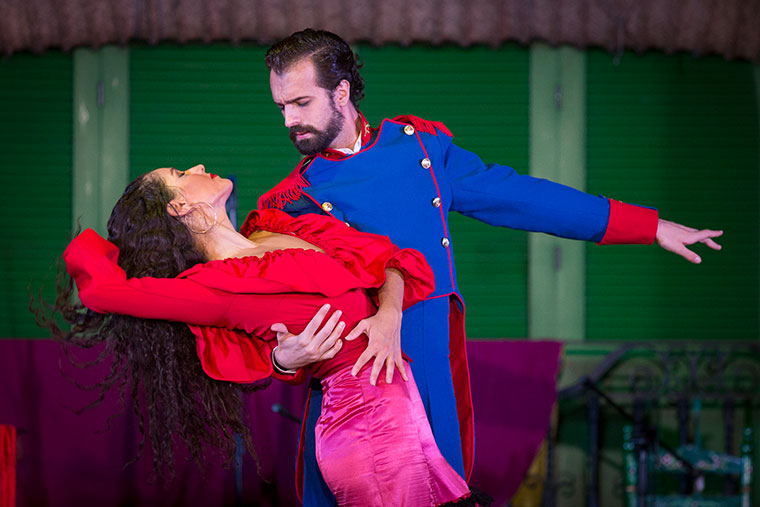 A flamenco show, lasting an hour and a half, with a unique cast of artists in Andalusia, given the number of singers, dancers and guitarists participating in the show. Also, while you watch the show you can enjoy a drink or a dinner of quality Andalusian gastronomy.
A live flamenco show that you can not miss if you visit Seville. In addition, if you book online, you can benefit from our discounts for early purchase. We will wait for you!