Tablao Flamenco, the best place to enjoy flamenco art
A tablao flamenco is the place to see flamenco with capital letters. In these spaces a unique atmosphere is created, where the artists express and create before an audience willing to enjoy this art that is universal.
The evolution of flamenco is closely linked to the rise of tablaos that go back to the origin of the old singing cafes, places decorated with Andalusian motifs, with chairs and tables for the public. In the center was the stage, where dancers, singers, guitarists and palmers gave life to flamenco singing and dancing.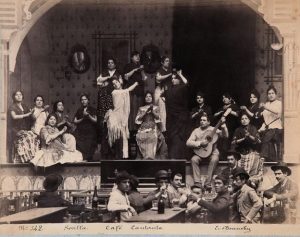 Little by little, these spaces were expanded and, after a period of reduced exhibition, the flamenco tablaos were opened to an increasingly large audience.
This is how flamenco comes out of its original setting, taverns, cafés and friends' meetings, and it ceases to be an art that is exhibited in small groups to begin to have popular roots and diffusion.
In the middle of the 19th century, the first flamenco tablaos appeared, coinciding with the so-called Golden Age of Flamenco, from 1860 to 1919, when this art developed in all its facets, that is, singing, dancing and music. instrumental, definitively fixing what is known as flamenco jondo.
Since then, many dancers, singers and guitarists have squandered their art in these flamenco tablaos, which has been for many of these artists prior to their rise to fame.
Tablao Flamenco in Andalusia
The cradle of flamenco is in Andalusia, hence the roots of flamenco tablaos in this region. To enjoy deep singing, dancing, music, zapateao, palmas … In short to feel the passion and the duende that surrounds this art, there is no better environment than an authentic tablao flamenco.
El Palacio Andaluz is one of these places where you can enjoy a flamenco show, in an elegant atmosphere, and enjoy a dinner of Andalusian cuisine at the same time. Our tablao flamenco, located in the Sevillian neighborhood of Macarena, offers two live shows every night (at 7:00 p.m. and 9:30 p.m.).
El Palacio Andaluz is the ideal place to discover the purest flamenco tradition, together with an innovative adaptation of Bizet's opera Carmen, by leading figures of dance, singing and guitar. Our show has been chosen by Televisión Española (Spanish Television) to promote flamenco nationally and internationally, an election that gives clues to the staging and artistic quality of our show.
In the Tablao Flamenco El Palacio Andaluz we have different proposals so you can enjoy the purest flamenco, with your favorite drink or tasting tapas or dinner à la carte. We have discounts for early purchase for online reservations. If you plan to visit Seville and want to know how flamenco feels, come to our flamenco tablao.