Maera, a great singer to dance flamenco
Juan Luis Vega, 'Maera' is one of the singers who is part of the cast of artists of the Tablao El Palacio Andaluz. Son of Manuel 'Maera' and Esperanza, 'la del Maera', a popular spanish singer,  and member of a family saga linked to the world of flamenco and the bull, 'Maera' could not be anything other than an artist or 'singer to dance flamenco', as he defines himself.
He is confessed a lover of flamenco, by tradition and vocation. He has shared the stage with artists such as Rafael Riqueni, Carmen Linares and Israel Galván, among others. He has sung to Rocío Jurado and has shared awards with Emilio Ramírez, 'El Duende', Amador Rojas and Sofía Jiménez de la Rosa. In addition, he participated in the recording of the album Orobroy de Dorantes. 
Raised in Triana (Seville), he lost the 'shame' of singing in public in Italy and, since then, he has not stopped wasting his art on stages around the world. Linked to El Palacio Andaluz since 1994, we can see 'Maera' live on the flamenco show that welcomes our tablao every night.
In the following interview, 'Maera' gives details of her artistic career and her passion for flamenco art.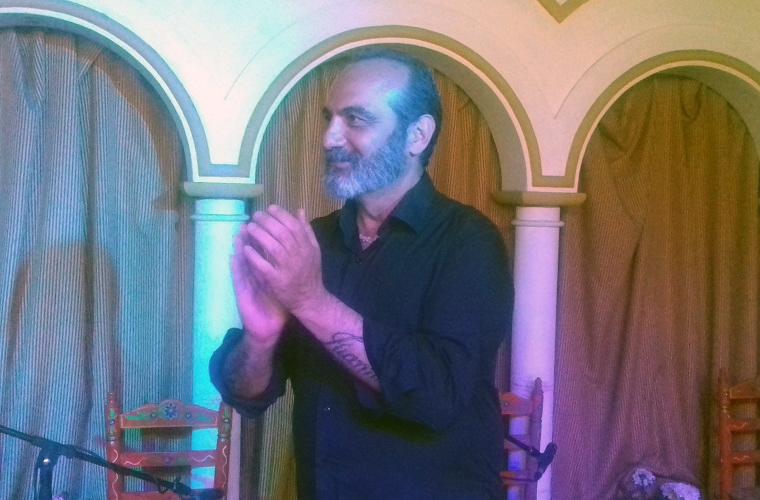 Question (Q): Who is 'Maera'?
Answer (A): I am the son of Manuel 'Maera' and Esperanza 'la del Maera'. I come from the family of the Vega, who are bullfighters, and within this saga there are also the Puya, who have been bullfighters and flamenco singers. I am also related to the Caganchos and the Ketama. Let's say that I grew up with the last embers of what was the neighborhood of Triana in Seville, a neighborhood of artisans and humble people who made a party with any excuse.
Q: With this family heritage, we can think that you are an artist almost 'by obligation'. Tell us, why did you decide to sing flamenco?
A: I have always sung and enjoyed flamenco with my people, but I never thought about dedicating myself to it. In fact, I studied a module of administrative assistant and I was working as a waiter, as a mechanic … But there was a moment in my life when I decided to find myself.
At that stage, one day Juan José Amador heard me singing and he told me: "if you do not sing to dance, you are stupid". I told him that I was ashamed to sing in public, but he convinced me to follow this path and I did. I started to study and learn the flamenco styles I did not know and until now.
An artistic career as a flamenco singer to dance very awarded
Q: Where and when did your artistic career begin?
A: I started in 1991. I went to Italy with Fiti Carrillo for four days and I was there for two years. We acted in hotels, restaurants, theaters, the Spanish Cultural Center … We toured the whole country. At that time, the only singers that were there were Javier, a kid from Torreblanca, and me. That experience helped me to remove the shame I had from singing in public and to learn a lot.
Q: And after the Italian adventure, did you return to Spain?
A: I returned to Seville, I was working in different tablaos and, also, sharing stage with artist of the likes of Esperanza Fernández, Carmen Linares, Rafael Riqueni, Israel Galván, Rafael de Carmen, Curro Fernández, Miguel Pérez, Tía Juana la del Pipa , El Pipa, Rafalito Garrido, Morao, Gregorian, Dieguito de la Margara … I
have also worked with La Tana, Rafael de Utrera, who is now with Vicente Amigo, Pepe de Pura … Many of those colleagues have triumphed and it is something that makes me happy. I also had the opportunity to sing Rocío Jurado in her house. Life has been generous with me in this regard.
Q: And outside of Seville, where has Maera been?
A: I have participated in many tours and performed on stages in Europe, South Africa and Cuba, among others.
Q: Within all the work you have done, is there one with which you are particularly satisfied?
A: Dorantes called me one day, he put me in a studio where I heard the children of the Orobroy choir. I stayed frozen. I was very excited to hear that and he asked me to put my palms to a joy. A few days later, he called me back to record all the palms of the Orobroy album. I was sure that I had done something that would stay for the story and that's where the Orobroy album of Dorantes is a real gem.
Q: In a trajectory like yours, some recognition or award you have received, right?
A: As a singer I do not have any individual recognition, but I do have several prizes singing to dance with other classmates. I have been a finalist of the National Flamenco Art Prize of Córdoba with Amador Rojas and I have also won the first prize in the National Flamenco Art Contest 'Ciudad de Ubrique', with Sofía Jiménez de la Rosa and with Emilio Ramírez 'El Duende ', with whom I share the stage at El Palacio Andaluz today. In the Flamenco Festival of Cante de Lo Ferro, I have also achieved Melon de Oro with other classmates.
An artist in love of flamenco
A: I sing, I play palms, if I have to play percussion I play it, if I have to hit a 'patailla', I do it. I am in love with what I do and I have been fortunate to be born and grow up in a family in which flamenco has been a religion.
Q: Since when are you linked to El Palacio Andaluz?
A: I came to this tablao in 1994, from the hand of my cousin Moli, from the Caganchos family, I started making days of rest and little by little I consolidated my work here forming part of the cast of artist that we give every night life to the flamenco show.
I have been alternating work here with participation in other shows and festivals such as Mont de Marsan in France. I have always liked to be with each other to drink from all possible sources. 
The scenario of the tablao El Palacio Andaluz is a wonderful and unique in the world
Q: Is there a special place for you in which you have acted and of which you keep a good memory?
A: I am a lover of history, so I once sang in a Roman theater in Lyon and it was a wonderful thing. I have a fond memory of that performance. Now that for the stage of a tablao, like El Palacio Andaluz, there is no other in the world and a room like this one either. It's wonderful, how cool this house is, here I feel great.
Q: And, do you have an artist that is a reference for you or that you admire?
A: Artist, with whom I stay, I have sung and I have put the hair on end, Loli Flores is a great flamenco dancer  who has been National Award. I also admire Ana María Bueno, Milagros Mengíbar, Matilde Coral …
Q: And as a flamenco singer, who does Maera admire?
A: Flamenco singer that I admire, there are infinities, but I'm staying with Pastora Pavón, for me the 'no more'. Camarón has been a genius, but the one I like the most is Pastora Pavón. Camarón is so difficult that I think he is an artist to enjoy it, however, Pastora is to enjoy it and learn from it. I also like Mairena, Vallejo, Caracol, Terremoto, El Negro del Puerto, Pepe Macarena …
I like to listen to them and realize that, even though they were older, they had the resources to sing as they did. And I'm going to get old too and I'm going to need to learn those resources, that's why I listen to them, to learn from them.
Q: And you as a singer for dance, how do you define yourself?
A: They tell me that I am a chameleon because I am very versatile and versatile. Before I was afraid to open my voice, but now that I have a career and certain knowledge I have a series of styles that allow me to fit perfectly in one or another key. I usually adapt to my colleagues, the guitarist or the bailaor or dancer.
Q: Which flamenco style do you feel most comfortable with?
A: As I am a lover of flamenco, I would be unable to say that there is a bad flamenco style. Before I liked the ease, I got it with joy, but today after the years I've been in this, like the seguiriya, the soleá, the martinete, the tonás …
The primitive sings are the ones I like the most. I like classic flamenco. I have seen Alejandro Vega dance, I have seen singing, holding me in my arms, Chano Lobato and I have been in the arms of Beni de Cádiz. Now it is sung very beautiful, but also things have been lost before they had their one.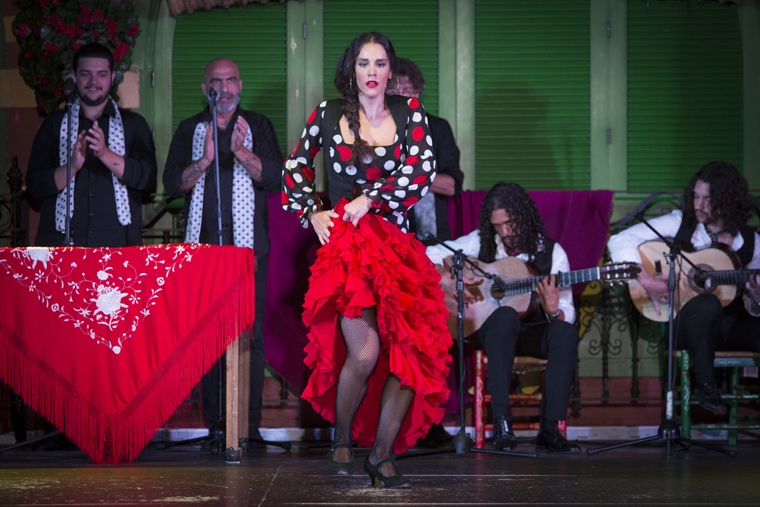 Q: And within the flamenco show that is held every night at El Palacio Andaluz, there are two daily passes, tell us, what is your role in this show?
A: Within the show, I sing what I have to sing. Alegrías, soleá, bulerías, tarantos, … There are days when fandangos are added … I am a singer to dance flamenco, I sing what they ask for. This show has a great variety and does not give the audience time to get bored. 
Q: What time do you stay with this flamenco show?
A: What I like the most is the end, when we are partying because it is a time when more improvisation is allowed. The part of seguiryias, soleá and tarantos also I love because they are singing to get a lot out.
Q: What is the audience that comes to the tablao of Maera?
A: I try to leave my soul and my heart in every sentence I sing and try to give everything.
 This is Maera, a flamenco singer in love with flamenco, whose art we can enjoy every night in the flamenco tablao El Palacio Andaluz in Seville.