Emilio Ramírez 'El Duende', a flamenco artist
Emilio Ramírez 'The Duende' is first and foremost 'flamenco'. It is considered as one of the best flamenco dancers in Spain. In spite of his youth, this artist has managed to delight audiences throughout the world and can boast of having 'zapateado' on the stage of the City Center of New York.
He has worked and shared the stage with leading figures of flamenco as Juana Anaya, Antonio Gades, Eva Yerbabuena and José Antonio Ruiz, among others. Started in the School of Farruco and has completed her education with great masters of dance like Manolo Marín, Antonio Canales or Maestro Granero.
At present, 'El Duende' is first bailaor, the artistic director and choreographer of the flamenco show every night is interpreted in El Palacio Andaluz and of which you can enjoy the assistants to the  New Year's Eve Special Gala which is celebrated on 31 December in this andalusian tablao.
We have interviewed Emilio Ramírez to get to know a little more about his artistic career and tell us all the details of the action it interpreted in Eve.
Question (Q): Emilio, tell us, when you began your story with the flamenco?
Answer (A): I have spent my whole life dedicating myself to this. I started to dance with 4 years and with 14 already traveled all over the world. I have formed by great masters of dance, I worked in the artistic companies more important and I have shared the stage with great flamenco artists. I have had the privilege of acting in Paris, Rome, Bangkok or at the City Center of New York, arriving to this scenario is the greatest thing for a flamenco artist.
National Flamenco Awards
(Q): In what artistic projects you participated?
(A): I have acted in Encuentros of Alejandro Granado, La Leyentda of Jose Antonio Ruiz, Bodas de Sangre of Antonio Gades or Cosas de Payasos of Javier Latorre. I have also participated in Tres Sombreros de Pico and El Café de Chinitas, working with Esperanza Fernández and Chano Domínguez. And since 2007 I am linked with El Palacio Andaluz, where since four years ago I am the artistic director of the spectacle that we interpret daily in this andalusian tablao.
(Q): What or who you have marked more in your career?
(A): I have been fortunate to have been part of large companies, such as the Andalusian dance Company or the Andalusian Dance Centre, and worked with artists of the stature of Antonio Gades and José Antonio Ruiz, among many others. Farruco for me has been a great reference, someone I miss a lot.
(Q): You've also received several awards for your artistic career, haven't you?
(A): I have two National Flamenco Awards. I got a 1st prize at the Concurso Nacional de Arte Famenco of Ubrique in 2010 and I was a finalist in the Concurso Nacional de Arte Flamenco of Córdoba in 2013.
A unique flamenco show
(Q): Emilio, tell us what you will see the public to attend the next 31 December to the New Year's Eve Special Gala that celebrates El Palacio Andaluz in Seville (Spain)?
(A): They will see flamenco, baile, cante and guitar. What to put in scene each night in this tablao, is a musical based on the flamenco that shows several traditional styles such of this art and includes two pieces of classical Spanish as are 'Carmen' and 'Sevilla'.
(Q): Who give life to this spectacle in the Tablao?
(A): A great cast of artists. The body of dance is formed by 16 people (9 women and 7 men) and there are also 3 guitarists and 3 singers. It is an exceptional staging and it is unusual to see flamenco tablaos like this one. The show lasts an hour and a half. Music and singing is live, except in the pieces of the Spanish classic, in which we give a little respite to the Flemish part.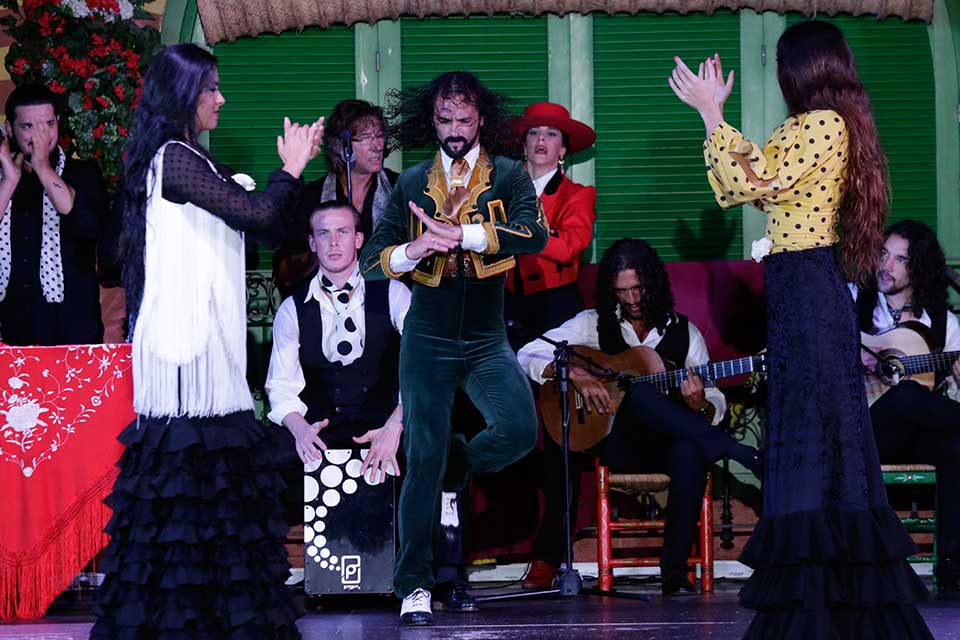 (Q): What sticks are those that interpretáis in this show?
(A): 
We start with typical alegrías de Cádiz and then we bring to the scene the styles that have the most strength and roots in the flamenco tradition, such as the soleás, seguidillas or bulerias.
(Q): How is this tour of the different flamenco styles?
(A): Through dance, singing and guitar solos and castanets. We take a tour of the purest and most traditional flamenco with the aim that the audience is excited, that they get that feeling and passion that we feel for this art.
(Q): What is the most amazing thing about this show?
(A): Everything has something, but the end piece in which I dance on a table … that must be seen! It is something very mine. Formerly they danced it in the cafes and I wanted to introduce it here. It has very good acceptance from the public because it is a very strong piece.
They also always ask us what the exchange of red and white flowers means in a moment of the performance. And the closing is spectacular … The closing of the show must be seen!
(Q): Is the performance on December 31 different from the performance on a daily basis at El Palacio Andaluz?
(A): It's the same show of the daily passes, but it's a special night because it's the end of the year and that's also evident in the performance. The only thing I say is that whoever comes to the New Year's Eve Special Gala will not regret it. I assure you that.