Enjoy the best flamenco show in Seville
A flamenco show is an experience that must be experienced in the first person because it is the best way to feel closely the passion and the goblin that characterizes this universal art. To enjoy the most of a live show, flamenco singing and dancing, it is advisable to attend a tablao.
A live flamenco show always captivates the viewer. The cante, the guitar, the zapateao, the palmas and the dance create a magical atmosphere transmitting from the stage the emotion and the feeling that this genre has.
Many people have surrendered to flamenco and it has been and continues to be a source of inspiration for great artists. This art, recognized as Intangible Cultural Heritage of Humanity, has different styles that confer a mark of identity of an artistic genre that expresses, like few others, feelings.
Where to see the best flamenco show in Seville?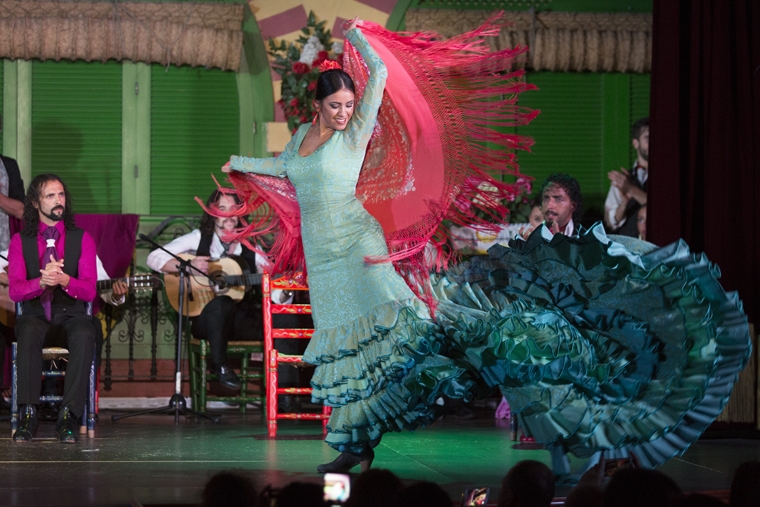 There are many places of this type in Spain and, above all, in Andalusia to enjoy a flamenco show live. If you want to see the best flamenco show in Seville, you have to come to the tablao El Palacio Andaluz. Our show has been chosen by TVE (Spanish Television) for the promotion of flamenco outside Spain, given the staging and the artistic quality of it.
The elegant atmosphere of the tablao, with its Andalusian style and stamp, and the cast of artists who come on stage every night make our flamenco show exceptional, a performance you can not miss if you visit Seville. El Palacio Andaluz, located in the Sevillian neighborhood of Macarena, offers two daily passes, at 7:00 p.m. and 9:30 p.m.
It is the best Sevillian tablao to discover the purest flamenco tradition, together with an innovative adaptation of Bizet's opera Carmen, by leading figures of dance, cante and guitar.
The show begins with alegrías de Cádiz. Continues with the Spanish Classic 'Torre del Oro', 'Wedding of Luis Alonso' and 'Seville'. Then, tarantos, seguiriyas, soleás, alegrías and cañas take the flamenco tablao to give way to the flamenco adaptation of the Ópera 'Carmen'.
After this piece, some bulerías with canes precede the zapateao, the guajiras, the tango and the farruca, the prelude to the end of the party with the whole body of dance on the stage playing sevillanas and bulerías.
If you plan to visit Seville, make your online booking to not miss our flamenco show. We have special prices for early purchase and allow the entry of minors (with discounts of up to 50%), accompanied by adults. You can enjoy a unique show, in an exceptional atmosphere, while having dinner or having a drink.
Discover and enjoy flamenco in a tablao with the flavor of the old singing cafes. Do not let them tell you! If you travel to Seville, write down our flamenco show on your 'essentials list'. You will not regret!