Alegría Navarro, a flamenco dancer who 'speaks' in the stage
Alegría Navarro is one of the flamenco dancers of the tablao El Palacio Andaluz. She is 22 years old, she has been listening to flamenco "from her mother's belly" and she is the daughter of bailaor José Joaquín Navarro.
Watching her on stage, anyone would say that when she was little she did not like to dance because "everyone who had her around did it", but her passion for horses made her learn to dance sevillanas at 5 years old. There he stayed until he saw his older sister at the Teatro Maestranza in Seville, participating in the Faust opera.
It was at that moment, when Alegría decided that she wanted to dance and began to forge her career as a flamenco dancer at the Professional Dance Conservatory of Seville. In his short life, he has taught at his parents' academy and at a school and, at present, he combines the Cristina Hereen Foundation scholarship with his performances at the El Palacio Andaluz flamenco show, where he has been working since 2016.
They say of her that she is a flamenco dancer of 'force of feet and speed', something that she confesses has inherited from her father, an artist whom she admires and has as a reference. Among her wishes for the future, she admits that she would like to be spoken of in her hometown of Seville because of her dancing.
In this interview, Alegría Navarro reveals how his formative stage has been and what he feels every time he goes up to the flamenco tablao of El Palacio Andaluz.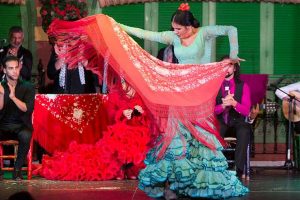 Question (Q): Tell us, who is Alegría Navarro?
Answer (A): I am 22 years old and I am one of the flamenco dancers of the show that is held every night at El Palacio Andaluz.
(Q): Why are you flamenco dancer?
(A): I've been listening to flamenco since I was in my mother's belly. My father is the bailaor José Joaquín Navarro, National Prize of Córdoba, and at the age of 14 he already had a company and he danced all over the world. My mother also dances and has worked in her company.
My father retired with an extensive and award-winning professional career and set up the Candela Academy in Seville, which he will turn 20 years ago. It can be said that I have grown there.
(Q): So, do you dance from then on?
(A): No, I did not like to dance because everyone around me did it. I went to the academy, I went to the dressing room, I threw my mother's gown on the floor and I stayed there. I liked to ride a horse and it was precisely because I started dancing.
(Q): How is that? Tell us.
(A): I was about 5 years old and my father told me one day, "As you do not learn to dance sevillanas, this year you do not take the horse to Rocío". I learned the four sevillanas in two weeks. As a result of that, he sometimes helped the academy to teach sevillanas, but little else. I also remember that there was a group learning to dance fandangos de Huelva and I would get on the side of the classroom and I would notice the steps to dance the fandangos, but nothing else.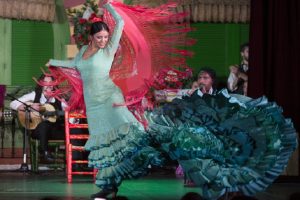 (Q): So, what was it that prompted you to dance flamenco?
(A): When my sister was 14 years old, she auditioned at the Fausto Opera Conservatory and they took her. She danced at the Teatro Maestranza and that caught my attention. It was when I told my father that I wanted to enter the conservatory.
(Q): How was that formative stage?
(A): I entered and at the second or third year I wanted to leave it because I liked only to dance flamenco, but my father, who has always been very strict for these things, told me that he had to finish, at least, the elementary degree . And when I finished, I decided to continue. I did the flamenco test and I continued my training until I finished it.
I have always felt that they have demanded more than the rest of my classmates for 'being the daughter of'. I thought, my father is a phenomenon, but I do not have to be like him and, besides, I am learning like the rest and I am one more. Even on one occasion, a teacher dropped my note because being the daughter of who I was had to measure up, she told me. I got tired of crying that day. I was 12 or 13 years old and I did not understand anything.
A young flamenco dancer in a unique show in Andalusia
(Q): And after the Conservatory, what has been your connection with flamenco dancing?
(A): When I finished the Conservatory I spent a year teaching at my parents' academy and at a school. Then I joined the Cristina Hereen Foundation, where I did a test and they got into the highest level. At the end of the year, I was awarded as a practicum and I am combining the Foundation with the Tablao Flamenco El Palacio Andaluz.
What I like about the Foundation is that they teach me history, old songs, to recognize and differentiate the flamenco styles. I think that besides dancing it is important to know where flamenco comes from.
(Q): Why does Alegría Navarro dance?
(A): It is a question to which I give a different answer according to the moment. Thoughts change and your reasons for dancing too. At this moment, I feel that I dance to express what I can not say speaking, that is, I prefer to tell you how I am dancing than talking.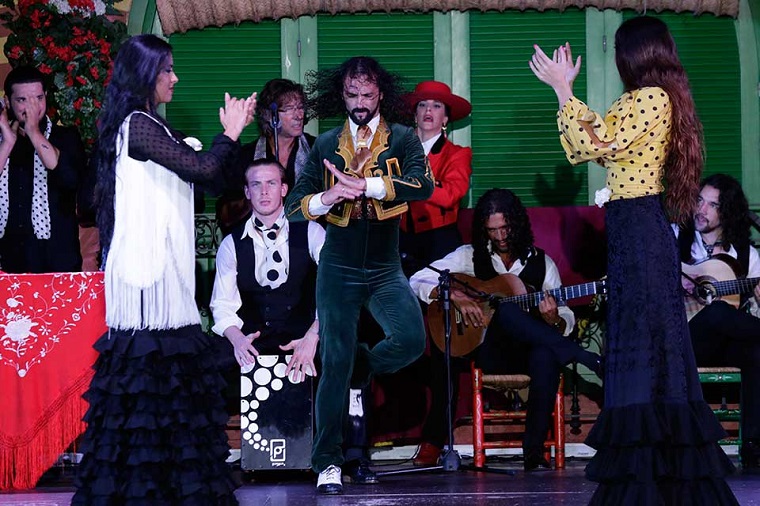 (Q): Since when are you in El Palacio Andaluz?
(A): In the tablao I started in 2016. I started dancing the piece of Spanish classic that has the show and now I am one of the flamenco dancers. I am very happy here, because I feel very well and, besides, I work on what I want and that is fortunate.
(Q): What is your role in the tablao flamenco show?
(A): I am one of the dancers who make the strongest flamenco styles and I also participate in the closing of Emilio Ramírez, 'El Duende'.
(Q): How would you describe the flamenco show in which you participate in El Tablao Andaluz?
(A): It's an exceptional and very complete show. For me, this tablao has incredible dimensions and a unique cast of artists, both in number of musicians and in the dance scene.
As for my performances, I like to improvise depending on who I sing and what I sing. There is nothing more beautiful than listening to the cante, feeling it and expressing it dancing.
(Q): What do you like most about the flamenco show that you perform every night in this tablao?
(A): What I like most is the dance of Emilio, his dance, it's a moment I really enjoy. I have recorded two dances of him in my head that I will never forget. I've seen Emilio split his shirt on stage and he's a dancer who made me cry while dancing.
A flamenco dancer who enjoys the tablao
(Q): Which club do you like the most, which one do you most enjoy dancing with?
(A): It depends on the day and my mood, I feel more comfortable with one or another flamenco stick. If one day I'm happy, I feel better dancing by cantiñas and if I come more nostalgic, I feel better dancing by soleá. But if I had to choose two different suits, I would have the soleá and the joys.
(Q): What kind of flamenco dancer is Alegría Navarro?
(A): I do not know. They say that I am a foot force dancer, something that I believe is my father's inheritance. Also, I'm a lot of speed. I do not think he's the best person to describe me.
(Q): Why is Alegría Navarro dancing?
(A): I dance to express myself, I feel more comfortable on stage than in the dressing room.
(Q): For you, what has the characteristics of having a good flamenco dancer?
(A): A flamenco dancer or flamenco dancer has to have a heart and a lot of feeling. Of course, it also has to have that strength that demands singing, sensitivity and knowing how to move.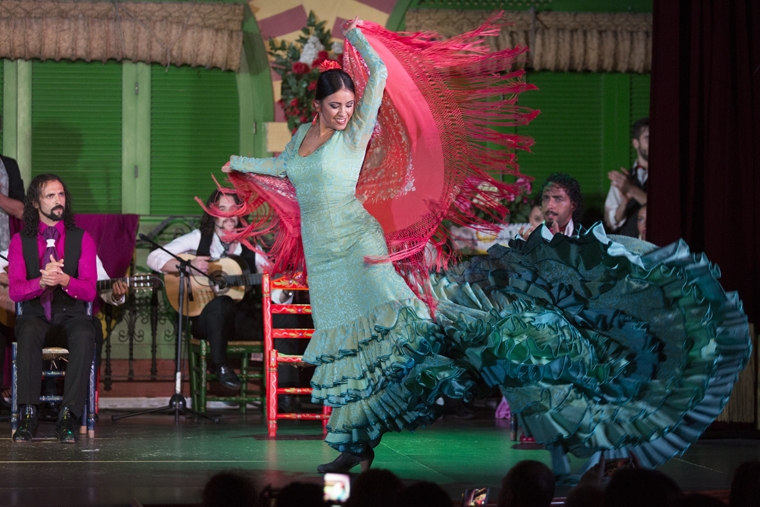 (Q): As a flamenco dancer, what does Alegría Navarro aspire to?
(A): I would like that, here in Seville, my name will be heard. I would love that in the world of flamenco, people would talk about me for my dance. I would also like that those teachers who told me that 'you have to measure up', feel proud and think 'well, it did the size'.
(Q): Is there a stage or festival in which you would like to participate?
(A): I love the Teatro de la Maestranza in Seville. As for festivals, I would like to go to the Jerez Festival and Mont-de-Marsan because it is very important. It is a pity that flamenco is valued more outside our own than inside. We should take more care of our art, which is the Intangible Heritage of Humanity.
(Q): What artistic references does Alegría Navarro have?
(A): My father is a reference for me. Also, every x time they release new videos on television and I see it and … It's my main dancer. Also having started in this tablao so young, Emilio is a person who has taught me a lot both on stage and outside of it, for what he has told me to continue growing as an artist. think My father and Emilio are two clear references for me.
(Q): Any flamenco dancer you admire?
(A): I love Pastora Galván, a dancer who is not a technician, but it is art. I like to make my hair stand on end and she gets it. That does not mean that when I see a dancer of technique, I applaud him and stand up, but I like that he makes me feel something and Pastora Galván achieves it.
 Alegría Navarro, a flamenco dancer who can be enjoyed every night at the Tablao El Palacio Andaluz in Seville. A flamenco girl who expresses what she feels, dancing. If you visit the city of Seville, you can not miss this young artist live!