New Year's Eve Gala in Seville, welcome 2023 in a flamenco tablao!
If you are looking for a plan to spend a different New Year's Eve, as a couple, with friends or as a family, take note of our proposal. Come to the New Year's Eve Gala Dinner in Seville, which celebrates the Tablao Flamenco El Palacio Andaluz. An appointment that includes a flamenco show, dinner and a party for you to start 2023 with lots of art and fun.
If you're wondering why you have to attend this New Year's Eve Gala Dinner in Seville, the answer is because you're going to live an unrepeatable experience. You will have everything a little. You can enjoy the essence of flamenco thanks to the elegant atmosphere and Andalusian seal that this tablao has, located in the heart of the city of Seville.
You will attend a unique flamenco show in Andalusia with artists of the highest level and of international renown. You will taste a delicious dinner and you will have a great time welcoming the new year with a party with live music. Do you need more reasons to start the new year with us?
All this for € 175 per person! 
ALL TICKETS HAVE BEEN SOLD FOR THE NEW YEAR'S EVE GALA
Flamenco show, dinner and party
After the welcome drink, will start the dinner and flamenco show. A dinner that includes our usual and elaborate end of the year menu and a selected wine list.
In the tablao a spectacle of pure flamenco and traditional interpreted by a large cast of bailaores, guitarists, cantaores and clappers. First figures like Emilio Ramírez, 'El Duende', an artist who has received classes of the best teachers of flamenco dancing and whose career has been recognized with several awards and prizes.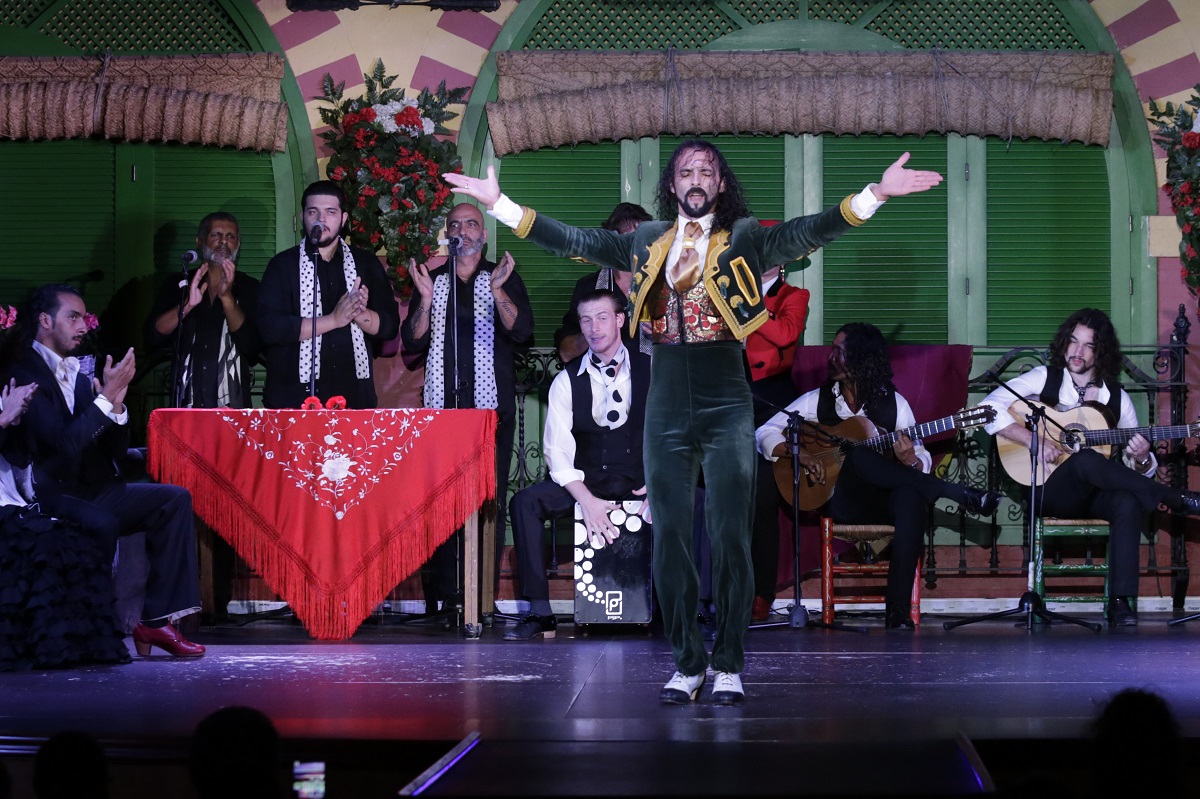 After the flamenco show and dinner, you will welcome the new year with the traditional spanish grapes of luck. With a big party with live music and animated by the orchestra 'El Embrujo', will start 2022. Throughout the night, attendees will be able to enjoy free bar and the gala will conclude with a chocolate and cakes.
Visit to the 'Museo del Flamenco y Arte Andaluz'
The booking to the New Year's Eve Gala Dinner in Seville at the Tablao Flamenco El Palacio Andaluz includes a free visit to the 'Museum of Flamenco and Andalusian Art', an exhibition with costumes, photos and other elements of Andalusian identity such as ceramics, art of wine or equestrian.
This space also has the recreation of a booth of the Feria de Abril in Seville.
Can you think of a better way to receive 2023? If you are going to spend New Year's Eve Gala Dinner in Seville, do not resist this plan!
We are waiting for you at the New Year's Eve Gala Dinner in Seville that celebrates the Tablao Flamenco El Palacio Andaluz!
You will live a unique experience. Do not miss this opportunity and welcome 2023 with us!