Antonio Corral, flamenco dancer in Seville
Antonio Corral is a flamenco dancer and also a Spanish dance dancer. Academically, he has studied at the Barcelona Conservatory of Dance, where he has studied folklore, classical, bolero school, stylized, contemporary and flamenco dance, a style he is passionate about.
He confesses that flamenco dancing chose him and that, since he was a baby, he moved his hands with 'flamenco style', that is why Antonio Corral could not be anything other than a flamenco dancer.
Despite his youth, he has a long artistic career because he has worked in different flamenco companies and tablaos in Spain. Its referents are Jesús Carmona, Belén López and Carime Amaya, artists whom he admires and in whom he sets his sights to continue improving as a flamenco dancer.
She dreams of having her own company and going on stages like La Maestranza of Sevilla or Liceu of Barcelona. He knows that becoming a "good dancer" requires a lot of effort and dedication. In this he is because his purpose is to become an artist "known in the world of flamenco". Talent has and desire you have left over.
In 2016, he came to El Palacio Andaluz, where he plays several flamenco styles as a solo dancer, although he also participates in other group pieces such as 'Carmen' or 'Sevilla', in the daily flamenco show that takes place in this Sevillian tablao.
In this interview, Antonio Corral tells us how his training has been as a flamenco dancer, what aspirations he has and what kind of artist he is, among many other things.
"Flamenco dancing is my life"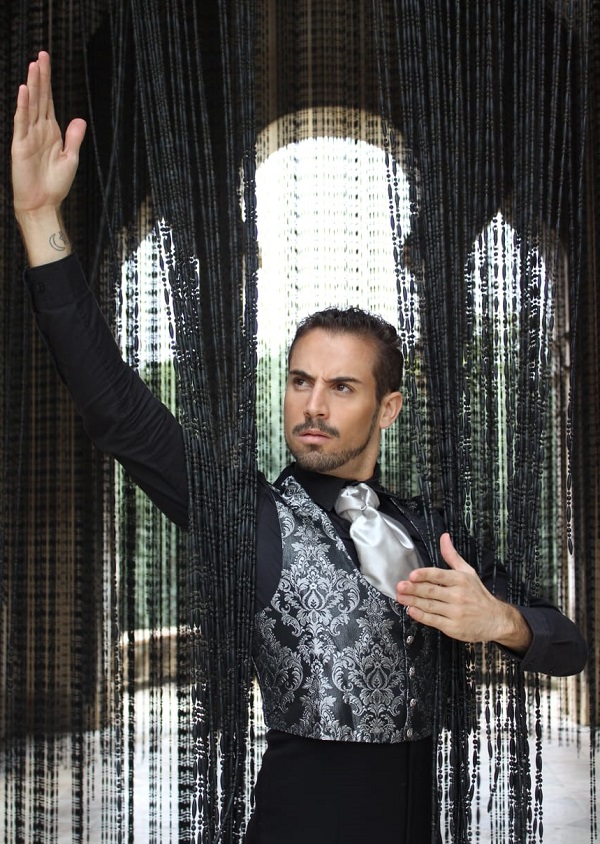 Question (Q): Antonio, tell us how do you get started in flamenco dancing?
Answer (A): I have a sister who is also a dancer and I think that from my mother's belly she saw her dancing … I have baby videos in which I already moved my hands. I think that is born with that, because I have another brother who is not a dancer.
(Q): Did your mother dance too?
(A): No, my sister started dancing in my family. She was the first and, from there, she was followed by cousins ​​and me, although professionally only my sister and I are dedicated to dancing.
(Q): Tell us about your training as a flamenco dancer.
(A): I have the medium degree of Spanish Dance by the Conservatory of Barcelona. I started dancing in flamenco clubs. My sister and her partner set up a company and I worked with them in hotels.
I also started dancing at a tablao in Barcelona, ​​El Palacio del Flamenco. I remember when I started in this tablao, I was scared because I was very young and had classmates like Carime Amaya, a flamenco figure, and other very good people.
After that experience I continued working in other companies. I was in the Ballet of Murcia, with whom I made several tours in countries like China, France … I have also danced as a soloist and in a lyric company of Madrid, doing zarzuela. So I have been accumulating experience until in 2016 I came to the flamenco tablao El Palacio Andaluz. I came for three weeks and, look, I've been two years now (laughs).
(Q): And in El Palacio Andaluz, what is your role in the flamenco show that takes place every day?
(A): I'm a solo dancer, but I also occasionally participate in group pieces, such as 'Carmen', the Flemish adaptation of Bizet's opera. And in 'Sevilla', which is the Spanish dance part of the show.
(Q): And as a solo dancer, what styles do you interpret?
(A): I dance differents flamenco styles. Soleás, seguiriyas, tarantos, tientos, cantiñas, guajira, caracoles … what they put me to dance, I dance it.
(Q): What do you feel most identified with when playing a flamenco style?
(R): It depends on the day, how I feel and also goes by times. For example, lately I am feeling very good with the soleás and seguiriyas. I'm trying to understand them and I feel very good dancing for these styles.
(Q): Are these the flamenco styles that you like the most?
(A): What I like the most is taranto. It is a style that seems very earthy, in the end it ends with tangos and it is a style with which I loose a lot, also because I think it adapts very well to my dance. My dance is very linear, but when I dance for tangos, I break with that style.
As a dancer I try to dance each style in the way it demands, that is, it is not the same to dance a cantiña as a soleá. Although each flamenco dancer has his style, you interpret one way or another depending on the character of the style.
A very technical flamenco dancer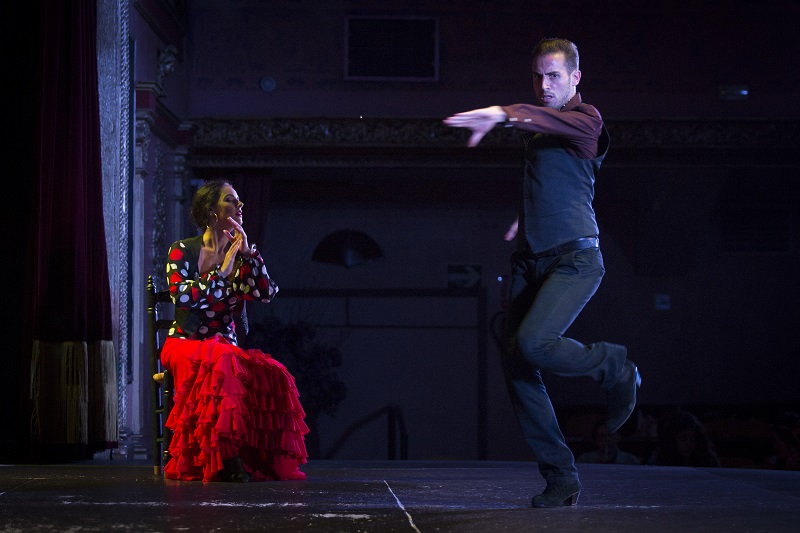 (Q): How is Antonio Coral as a flamenco dancer?
(A): I'm quite technical because I've studied a lot and it shows. The teachers always tell me to "let go", because I'm always very placed and I look more technical.
I turn a lot, I make jumps in the air and I throw of things more related to the Spanish dance, although I try to break a bit to get that I see more canastero, but I tend to be a dancer, let's say, more stylized.
(Q): What artistic references do you have?
(A): It has strength, speed of feet … It's all in it, I love it. Antonio 'El Bailarín' and Mario Maya I also like them a lot. And of more current dancers, my idol is Jesús Carmona. It's also from Barcelona and I had the opportunity to meet him and study a lot with him and … i die
And of women, I really like Belén López, who is from Tarragona and is a 'great artist'. I pay attention to her and Carime Amaya too.
(Q): Even though you are very young, you already have a considerable artistic career. Have you had the opportunity to dance with any of your idols? Tell us also what dreams, in this sense, have you still pending?
(A): I just fulfilled one of my dreams at SIMOF (International Flamenco Fashion Show), because I participated in a show with Antonio Canales and for me sharing the stage with this artist has been a pleasant experience.
I've shared tablao with Carime Amaya, for five years, and that's been amazing because I used to watch her dance on the internet and when I knew I was going to be her companion … It was a dream! But of course, I have many other dreams that I hope to fulfill.
(Q): With which artist would you like to share the stage?
(A):  I've had the good fortune to share the stage with very good singers, who have worked with Sara Baras or Farruquito. Well this luck also I have it at El Palacio Andaluz, that there are colleagues who have worked with these artists and that is a prestige for me. But I still need …
I really like women who sing flamenco, because they have a lot of strength. I love that I sing a woman and it would not be bad to share the stage with Fabi or Tana, who are two incredible singers.
(Q): Why should we watch the flamenco show at El Palacio Andaluz?
(A): Because it is a good way to see a flamenco repertoire, an art that is the heritage of humanity. It is a varied show, in which there is flamenco and Spanish dance so the show is very enriching.
It also serves to test the public and see how much you can feel what we project artists in the tablao. When we finish, we usually exchange impressions with the attendees and the things they tell us are so rewarding that you understand why you dedicate yourself to this.
(Q): How is the experience of playing two flamenco shows on a daily basis?
(A): It's very good. You are lucky enough to work on what you like … Being in a Sevillian tablao like this and working with so many people is something that teaches you a lot. Also, you listen in applause and that fills you up. You always try to improve something, and transmit every day how you feel, when you're sad or when you're happy, that also shows in your way of dancing every day.
"I want to be a known flamenco dancer"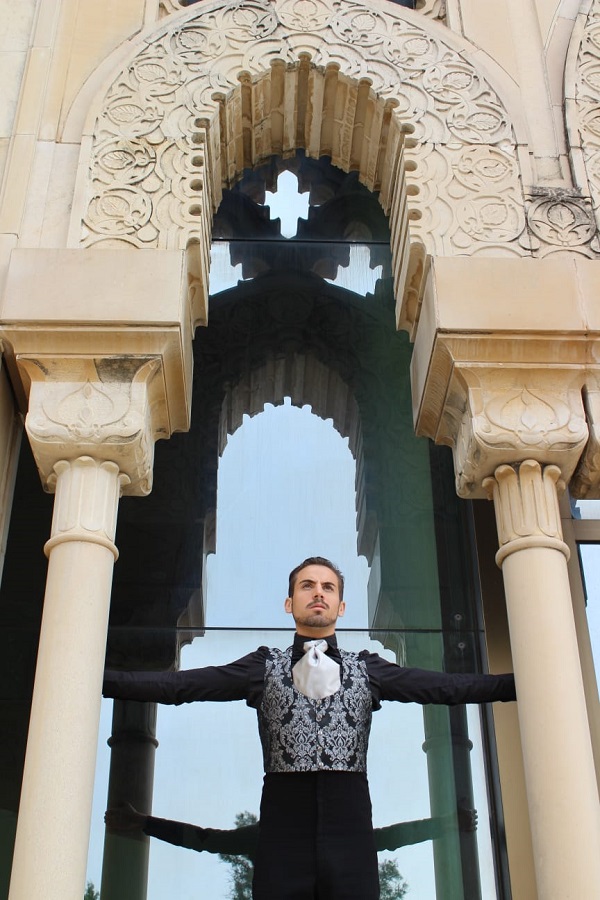 (Q): Antonio Corral, what do you aspire to as a flamenco dancer?
(A):  I would like to be a good flameno dancer. I want to dance the style well and when people talk about me, talk about how well I dance. I want to be known in the world of flamenco.
(Q): Why did you choose to devote yourself to flamenco dancing?
(A):  I think flamenco chose me because that feels like it. I've done other things and I do not … I live flamenco, it's part of my life.
(Q): Who would like to look like Antonio Corral?
(A):  Jesús Carmona, who has feet, speed, turns … I love it. Or Belén López. I would love to be able to dance with the style that they have.
(Q): Have you received any award or recognition during your artistic career?
(A): Last year I took the second prize in the National Flamenco Art Competition of Ubrique, which is the only event that I have presented. And I am very happy and satisfied.
(Q): In what scenario would you like to dance, if you have not already done so?
(A):  I would like to perform at the Liceu, the Teatre Coliseum or the Palau de la Música in Barcelona. And here in Seville, La Maestranza … would be something incredible and, also, with a show of mine.
(Q): Would you like to have your own company?
(A): Yes, I do not say having such a big company, but I would like to be able to do something of my own someday.
Antonio Corral is a flamenco dancer dedicated body and soul to this art. He strives every day to improve and advance his artistic career. Enjoy flamenco and enjoy those who see it live. If you visit Seville, do not miss out on this artist in our daily flamenco show.