FOOD AND FLAMENCO IN EL PALACIO ANDALUZ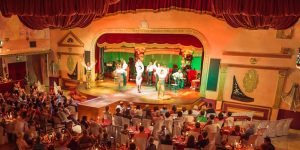 There are millions of reasons why Seville glows with this "special colour" that the Los Del Río sing about and that the whole world talks about today.
There is nothing more emblematic of our beautiful city than the flamenco and the clapping of friends to the Sevillian rhythm surrounded by wine and local food. They are the two pillars of this city and main expressions known by the visitors that want to soak up the culture of Andalusia.
The celebration of festivals and the vitality of the flamenco in the neighbourhoods, peñas (gatherings of musicians) and taverns allow the visitors, as well as establishing contact with the roots of this ancestral art, to enjoy the architectural, cultural, gastronomic and natural heritage of the province. That is why the most unique art of Andalusia is joined with the gastronomy, our flavours and yield of local products which have represented for decades one of the most important sources of wealth for the province of Seville.
There are many routes and plans which inundate Seville of flamenco, such as soups, liquors, wines and flagship products of our land, such as Iberian ham, olives or rice. If you want to experience all of this, you can enjoy the flamenco show and our local food in the city of Seville at El Palacio Andaluz where we give you this opportunity.  You can join our daily shows which take place around our flamenco tablao at our food services:
Consult these services and enjoy the essence of Seville concentrated into flamenco and food, dancing at El Palacio Andaluz. Discover our special colour in the best atmosphere possible.
You can look at this small sample of our flamenco show from the perspective of some of our visitors: Food and flamenco at El Palacio Andaluz.