An amazing flamenco show in Seville
El Palacio Andaluz presents a unique flamenco show in Seville. Pure and traditional flamenco played by a great cast of dancers, guitarists, cantaores and palmeros. A feature that bears the rubric of Emilio Ramírez, 'El Duende', principal dancer, choreographer and artistic director of this show.
This fascinating performance can be enjoyed at the Grand Special New Year Gala that celebrates this tablao, located in the heart of the Andalusian capital, next December 31 to welcome the new year with much art.
The flamenco show has a sensational staging thanks to the magnificent interpretation of the artists who give life to this show, full of feeling and passion.
What flamenco show do you see in El Palacio Andaluz?
The performance presented by El Palacio Andaluz is unique in Seville because it includes an incomparable adaptation to flamenco of the opera Carmen, by Georges Bizet. A magic moment and full of sensitivity, so it is a highly recommended act to enjoy in the first person.
And, what can you see in this flamenco show? Especially art, a lot of art. The show begins with alegrías de Cádiz. Continues with the Spanish Classic 'Torre del Oro', 'Wedding of Luis Alonso' and 'Sevilla'. Then, tarantos, seguidillas, soleás, alegrías and cañas take the tablao to give way to the flamenco adaptation of the Ópera 'Carmen'.
After this piece, some bulerías with canes precede the zapateao, the guajiras, the tango and the farruca, the prelude to the end of the party with the whole body of dance on the stage playing sevillanas and bulerías.
During the performance, the dances performed by the main artists alternate with other moments in which the whole body of dance can be enjoyed in the tablao. Besides the dance, the assistants can enjoy the interpretation of live flamenco music thanks to the guitarists and cantaores who are also part of this exceptional staging.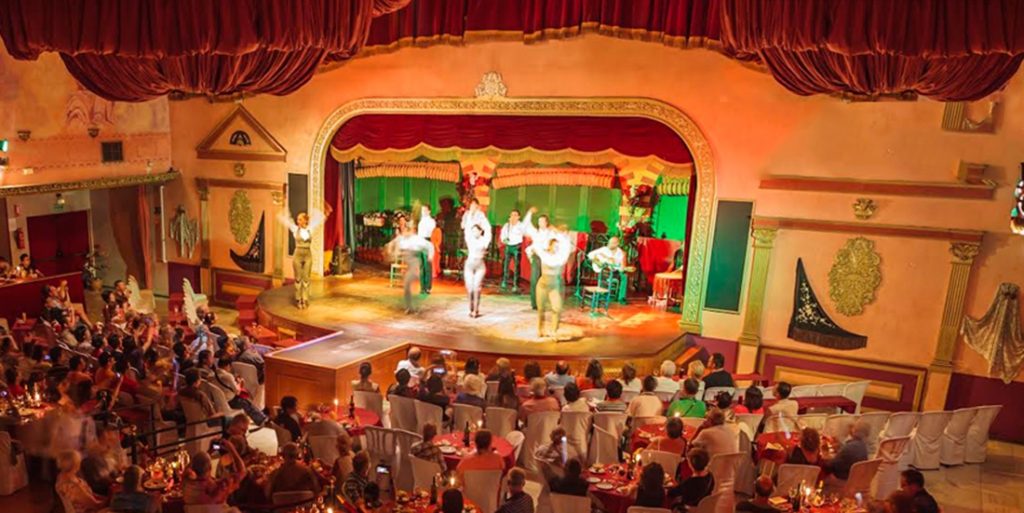 You can enjoy this unique flamenco show in Seville at the Special New Year Gala organized by El Palacio Andaluz. It lasts approximately 60 minutes and the performance is designed so that the viewer enjoys a unique and unusual function. In this tablao, it is only allowed to activate the senses to enjoy this art declared Intangible Cultural Heritage of Humanity, Flamenco.
If you are interested in attending our Grand Special New Year Gala, make your reservation here before you run out of it.