Macarena Cortés, flamenco dancer in Seville
"Your girl has an artist's name". The memory of these words still thrills the flamenco dancer Macarena Cortés. In this way they told their parents that "the girl" had a talent for dancing, after completing her first test to enter the Conservatory.
He was 13 years old, but had to wait until he was 15 to pack his bags, leave his native Ceuta and move to Granada to start his training at the Professional Dance Conservatory.
During her stay at the conservatory, the artist Matilde Coral crossed her life and after seeing her she was very clear that she wanted to "dance like that". Fate wanted her to finish her training as a flamenco dancer in the dance school of the sevillian artist, where the artist who is today Macarena Cortés was forged.
Since 2016, Macarena is part of the cast of artists from El Palacio Andaluz, where she plays several flamenco artists in the show that is held daily in this tablao in Seville. He has shared the stage with Falete, the flamenco pianist Laura de los Ángeles and the guitarists Mariano Campayo and Berlanga, among others.
He fulfilled the desire to dance to Matilde Coral, but this young flamenco dancer still has many dreams to fulfill and is in it. Every night, while climbing the stairs of the tablao of El Palacio Andaluz, he always remembers his parents and his teacher Rocío Coral.
In this interview, Macarena explains how her training as a flamenco dancer has been, what artistic references she has and what kind of artist she is, among many other things.
Macarena Cortés, her formation as flamenco dancer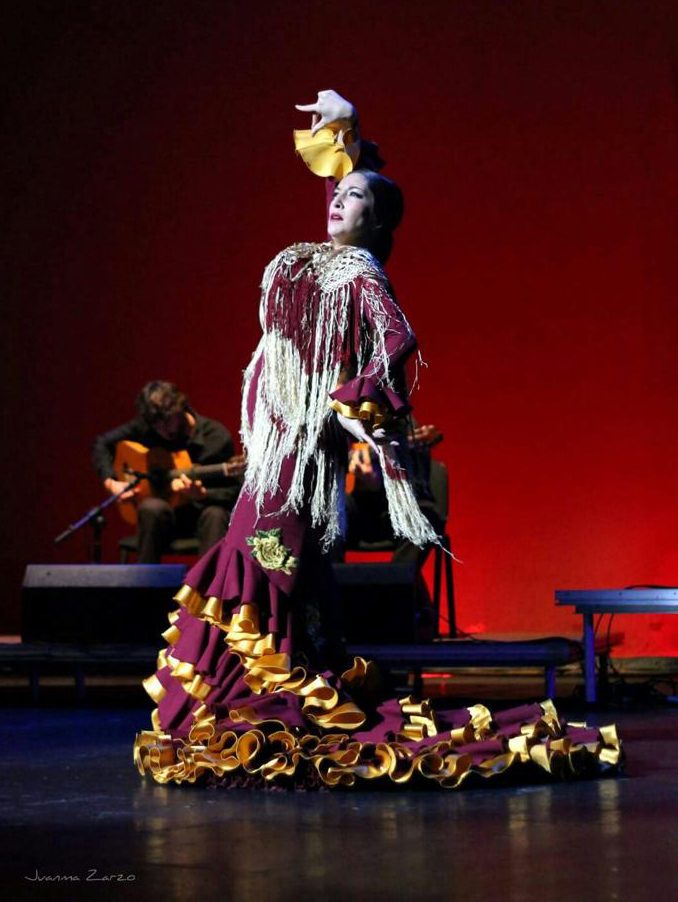 Question (Q): Macarena, tell us how and when did your association with flamenco begin?
Answer (A): My parents saw early on that I had some concern for dancing and flamenco. When I was two and a half years old my mother decided to sign up for flamenco classes.
The years went by, but in Ceuta there were no accredited schools. When I turned 13, a girl, who came from outside, saw me dance and told my parents that I had qualities that I could not miss and why they did not think I would do more official studies.
(Q): And, what happened?
(A): They took me to the flamenco entrance test to the conservatory and before they got home they called my parents to tell them (Macarena is excited), "your girl has an artist's name, so let her form".
At that time I was very small, I was only 13 years old and they did not let me leave home. But at 15, I did the test again and already I moved to Granada to start my studies at the conservatory, which I combined with the institute.
(Q): So, all your training has been at the Professional Dance Conservatory of Granada?
(A): No, something very nice happened to me in Granada. I remember that it was the end of the year, I was in the fifth grade, and there was a week of intensive courses. There came a woman I had never seen dancing, Matilde Coral. They did not let the students enter because that class was only for the teachers. But the doors had some little windows, I looked out and saw that woman dancing … I immediately called my parents and said, "I just saw how I want to dance. I just saw Matilde Coral and I want to dance like that".
(Q): And, what did you do then?
(A): Coincidences of life, when I passed selectivity and had a note to study Pedagogy in Seville. I moved to the Sevillian capital, but had passed the registration period in the conservatory. To continue with my training, we looked for a school that had the accredited studies and I found the Matilde Coral Authorized Dance Center. I did not think so. I signed up and that's where I finished my flamenco studies and, in fact, everything I am I learned from there.
(Q): What has your step in this dance center contributed to you?
(A): Everything that I am as a flamenco dancer. My teacher Rocío Coral is a reference for everything. Every step I take, how I comb my hair, how I put on a fork … After finishing here, the formation recommended me, due to my physique and qualities, to deepen in the Spanish dance and I went to the Andalusian Dance Center, where I have also been training Two years, I finished in June 2018.
(Q): Your training then is …
(A): I am accredited by the Chair of Flamencology of Jerez by the Authorized Dance Center Matilde Coral and I am finishing my distance studies at Pedagogy of Dance, at a distance, at the Superior Conservatory of Malaga. In addition, I am a graduate in Pedagogy.
A flamenco dancer from the Sevillian school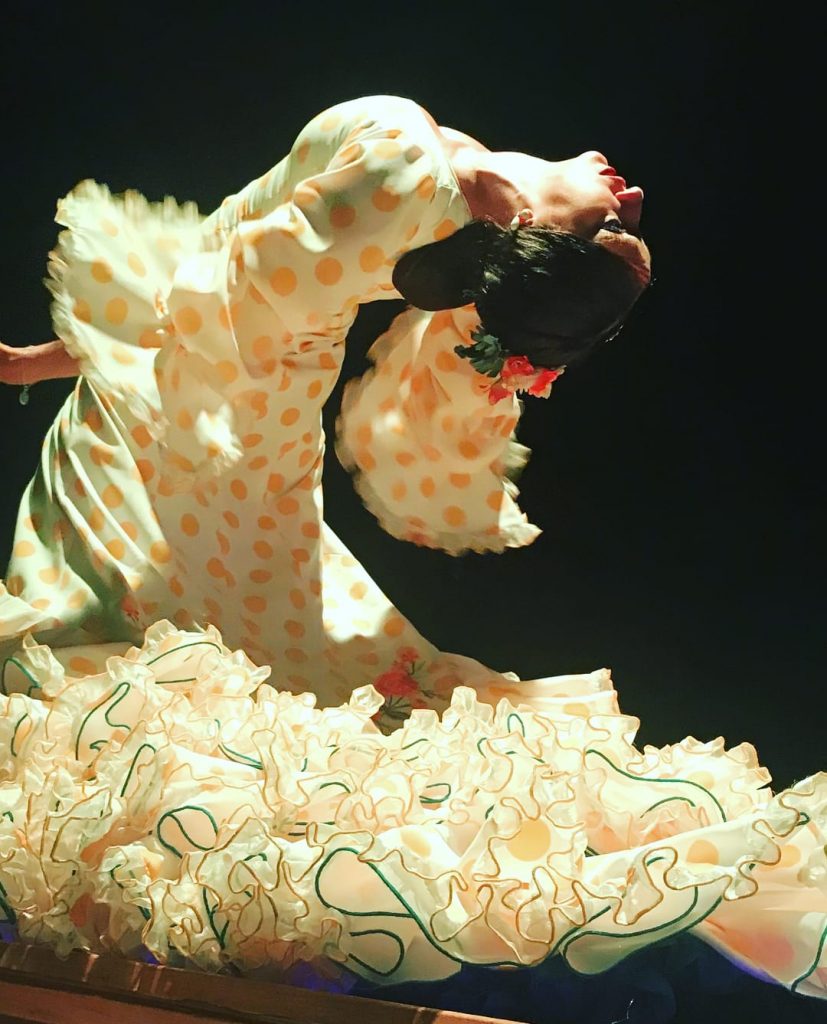 (Q): And, as a flamenco dancer, where did she act?
(A): When I was little I participated in different cultural activities, which were held in my city, and I was chosen to represent Ceuta in Galicia, in the Xacobeo year, or the Colombinas de Huelva. When I started my formative stage, I also participated in several shows, with the Conservatory or the Andalusian Dance Center, for example.
(Q): With whom have you shared the stage?
(A): I have worked with Falete, with the flamenco pianist Laura de los Ángeles or the guitarists Mariano Campayo and Berlanga.
(Q):  Since when are you in El Palacio Andaluz?
(A): I arrived in 2016 at this tablao flamenco and in July I will do 3 years.
(Q): What is your role in the daily show?
(A): I am a principal artist and within the show I interpret several flamenco styles. In my case, I only dance flamenco.
(Q): What kind of flamenco dancer is Macarena Cortés?
(A): I'm a very serious flamenco dancer. From my point of view, a good dancer, in addition to dancing well, must have a presence. What I want to say is that the dance must include the aesthetics, worth and beauty of the woman.
You have to go to the stage well combed, dressed and made up and according to the flamenco club that you will play. For me a good flamenco dancer must be a lady on stage. It is something that I have been taught during my training and I take it to heart in my day to day.
(Q): And let's say technically, how are you Macarena?
(A): Technically I'm a flamenco dancer from the Sevillian school. In a clasic flamenco dress, castanets, shawl … That's what I've been taught. Also, I like to characterize the dance, that is, I always prepare according to what I am going to interpret. I can not go out to dance a joy dressed in black and with my hair loose, for example.
When I go on stage, I like to take care of every detail and that the audience understands that each club transmits different feelings. The sorrow of the seguiriya is not that of the joys, therefore I can not even wear the same, or dance the same.
(Q): What flamenco style do you like to dance more?
(A): With what I identify dancing flamenco is with the soleá, with the seguiriya and with the cane. They are the flamenco styles that most identify me, but because of the school that I have had I also enjoy dancing for cantiñas a lot.
(Q): What references do you have? Who are you looking at or who would you like to look like?
(A): Matilde Coral is a reference for me and notice that the first time I saw her at the Granada Conservatory I did not even know her name. Rocío Coral, as I said before, is also very important to me. Ana María Bueno is another great reference in the world of dance, the bolero school and flamenco. He is a person who has shown me much value both personally and professionally.
And although they are no longer alive, there is no night I go to bed without first seeing something of Lola Greco, Loli Flores or Manuela Vargas. They are women who have marked my artistic life.
(Q): With whom would you like to share the stage?
(A): One of my illusions was to dance to Matilde Coral and, thanks to her daughter Rocío, I was able to fulfill this dream by participating in two of her tributes.
I would also like to perform with Enrique 'El Extremeño', the Campayos, El Perla …
(Q): Is there a place or scenario where you would like to act?
(A): I dream of being able to have my own show and take it to the Maestranza of Seville or the Madrid stages.
A flamenco show to enjoy andalusian art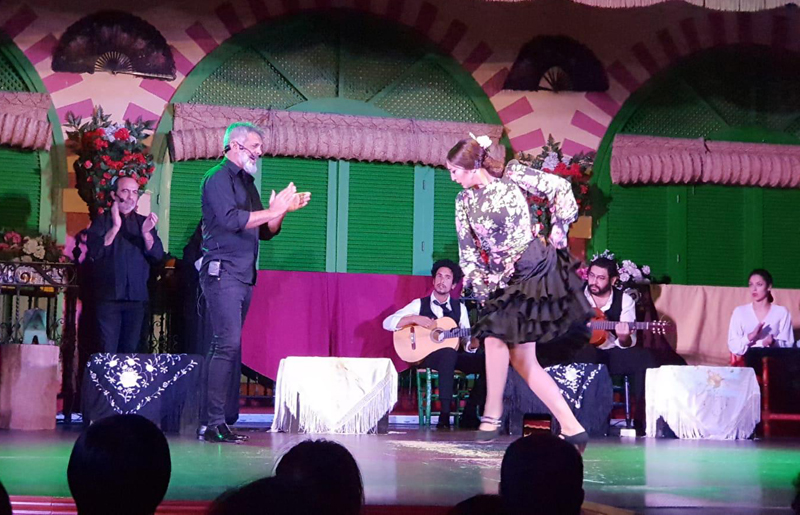 (Q): As you have already told us, since 2016 you have been climbing the tablao of El Palacio Andaluz, a tablao that celebrates two live flamenco shows every night. What would you highlight of this show?
(A): It's a very complete show and it encompasses many aspects of Spanish dance, it has a very rich Spanish classic, and the artists are very professional. With very good technique and good knowledge. As for flamenco, it is a show that goes through almost all the styles such as the soleá por bulerías, tarantos, guajira, caracoles …
The Palacio Andaluz is an ideal place to know what flamenco really is. Whoever wants to enjoy a quality show, has to come and see us.
To enjoy the art and talent of this flamenco dancer, do not hesitate to visit El Palacio Andaluz in Seville, where every day at 7:00 p.m. and 9:30 p.m., Macarena Cortés, together with the rest of the artists, give life to a flamenco show unique in Andalusia.