El Palacio Andaluz supports Bienal of Flamenco in Seville
The new edition of the Bienal of Flamenco is here. A biannual event that makes the Seville capital the maximum reference of flamenco in the world from September 5 to 30.
On this occasion, El Tablao Flamenco El Palacio Andaluz joins La Bienal lights up Seville, the initiative that complements the official program of the festival offering endless activities for all tastes that allows the city to breathe flamenco 24 hours a day.
An evening of unique flamenco
In particular, El Tablao Flamenco El Palacio Andaluz becomes one of the iconic spaces of Sevillian jondo art where you can enjoy a unique flamenco evening that includes a flamenco show with dinner or a drink.
The show, which is celebrated in this flamenco tablao, has the signature of Emilio Ramírez 'El Duende', principal dancer, choreographer and artistic director of the show, to which a cast of artist of recognized international prestige gives life. In fact, 'El Duende' is considered one of the best flamenco dancers in Spain, recognition that endorse the different awards that the bailaor has achieved during his artistic career.
Those attending the Bienal of Flamenco who are interested in visiting our flamenco tablao and enjoying an unforgettable flamenco night will have special discounts when booking the show, from September 6 to September 30. To do this, they must present the document accrediting or entry of the biennial at the time of making the reservation directly at El Palacio Andaluz.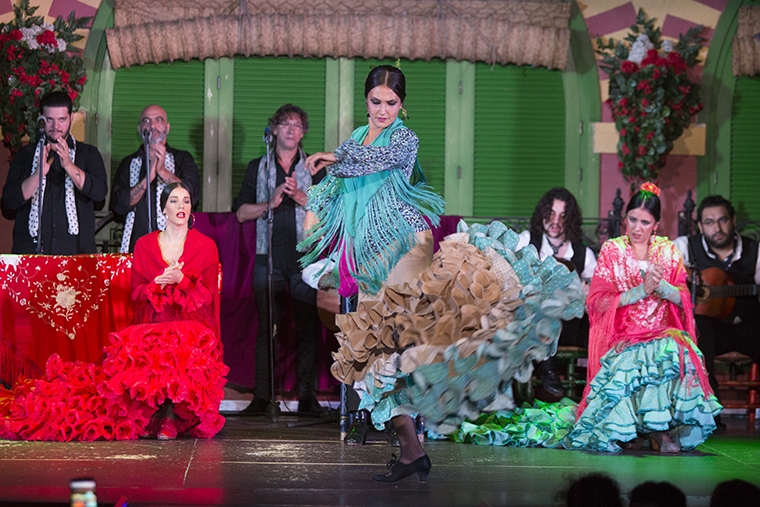 The Biennial-ASET Experience
The participation of El Palacio Andaluz is part of the decision of the Seville Association of Tourism Companies (ASET) to join the XX edition of this renowned festival with 'The Biennial-ASET Experience', an initiative whose objective is to offer leisure activities alternatives to the official programming so that the public can enjoy flamenco in different corners of the city of Seville.
Among other activities, citizens and visitors can enjoy dramatized routes, a gastronomic offer especially designed for this flamenco event or flamenco shows in emblematic tablaos such as El Palacio Andaluz.
The complete program of La Bienal lights up Seville  includes flamenco activities of various kinds such as conferences, parades, exhibitions or seminars, among others. The complete program is available in this link.
Remember that the Bienal of Flamenco is an international reference event that brings together, every two years in Seville, flamenco dancers, singers and guitarists from the world of flamenco, whether young or first class figures, representing both pure flamenco and new trends in the world of flamenco. A must for lovers of this universal art.